On May 24, 2021, New Energy and Industrial Technology Development Organization (NEDO) announced that, together with its subcontractor ARBIZ Corporation, it had demonstrated a new automated process of crushing, sizing, and sorting waste from electrical and electronic equipment (WEEE) for the first time in Thailand at its recycling plant near Bangkok. NEDO intends to establish a recycling model for Asian countries through its initiative to recycle useful resources in Japan when they cannot be processed locally in Thailand. In Thailand, as living standards have improved along with economic growth, WEEE has also been increasing. However, legal provisions for recovery and treatment are not yet adequate and some challenges remain, such as health hazards for workers caused by improper waste treatment issues with water quality and soil pollution. Thus, NEDO and the Thai Ministry of Industry's Department of Industrial Works (DIW) signed a memorandum of understanding (MOU) agreeing to conduct a demonstration project to recycle WEEE in the capital, Bangkok, and surrounding areas from September 2019 to March 2022.
NEDO and its subcontractor ARBIZ Corporation have begun pilot operations to sort, size, and crush WEEE at the Gateway Plant of Hidaka Yookoo Enterprises (HDK) in the Plaeng Yao District of Chachoengsao Province. They built an automated, integrated recycling system to demonstrate its effectiveness. This is the first system in Thailand built using Japan's advanced recycling technology. It aims to establish an environmentally friendly and suitable WEEE recycling system.
The pilot project will demonstrate and verify the system's effectiveness at efficiently recovering such valuable resources as copper, stainless steel, aluminum, and precious metals discharged after WEEE crushing by sorting material mixtures of plastics, glass, and metals by particle size and ratio. In addition, they have launched an initiative to recycle precious metals (e.g., gold and silver) and hazardous waste (e.g., lead and zinc) that are valuable resources in Japan but cannot be treated in Thailand. This will help realize international resource recycling and facilitate the establishment of a recycling model for Asian countries. Moreover, in accordance with Japan's Home Appliance Recycling Law and the Small Consumer Electronics Recycling Law, a joint study has been established to develop guidelines for waste treatment plans suitable for Thailand.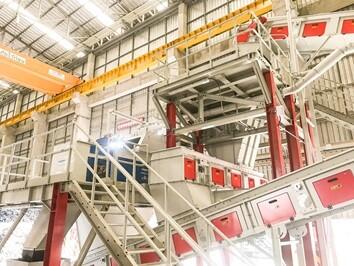 This article has been translated by JST with permission from The Science News Ltd.(https://sci-news.co.jp/). Unauthorized reproduction of the article and photographs is prohibited.