Under the guidance of Professor Shinichi Nakasuka of the Graduate School of Engineering, the University of Tokyo, with the support of Space BD President and Chief Executive Officer, Masahiro Nagasaki and Principal Yuichiro Miura, Clark Memorial International High School launched the "Space Education Project" on July 1. This project aims to enable high school students to develop and launch artificial satellites. The project will also develop exploratory learning programs. Japanese astronaut Naoko Yamazaki has been appointed as the project ambassador.
Through this project, students will develop and operate satellites and conduct missions. Such activities will develop students' independence and non-cognitive abilities, which are indispensable skills for the future of society. Specifically, the project will be led by the development and implementation of two efforts by high school students: the "Clark Satellite 1" (tentative) and the unique exploratory learning program, "Space Exploration Studies" (tentative).
The activities of the project are divided into three parts. First, an "Artificial Satellite Development Team" that has founded a student organization named the "Space Exploration Department," which consists of students between 1st and 3rd grade (16-18 years old) enrolled for satellite development; second, an "International Public Team" that disseminates the attractiveness of space development both domestically and abroad; and third, a "Space Mission Implementation Team" that operationalizes artificial satellites. Members of the "Artificial Satellite Development Team" have already been selected and other student teams have been recruited nationwide. The microsatellite is a 10-cm square, 1-kilogram ultra-small CubeSat 1U model satellite. A goal of launching it in 2022 to coincide with the 30th anniversary of the school has been set and its release is planned to be done from the International Space Station using an unmanned space vehicle. Professor Nakasuka will guide the development.
Under the University of Tokyo's academic guidance, the system is expected to be developed with Professor Nakasuka's advice, and classes will be conducted for all students. The completion of the program is scheduled for the end of March 2023.
A press conference was held on July 1, with Toshihiro Otsuka, the head of the founding school. Other participants included Professors Nakasuka and Yamazaki, Mr. Nagasaki, Mr. Sakura Kanroji, Mr. Kainin Suzuki, Mr. Nashiko Suzuki, and Mr. Mitsuteru Yamane of the Clark Memorial International High School Space Exploration Department. "I hope that this space education project will serve as an opportunity for Japanese children to feel closer to space, have dreams about going there, and taking on challenges," said Dr. Otsuka, President of Otsuka School. Professor Nakasuka also told the students, "It is a great challenge to develop a satellite, and it is wonderful that high school students have embarked on this enormous challenge. Satellite development is a treasure trove of materials for various studies such as project management, external negotiations, manufacturing, science, and technology. I look forward to seeing all of you grow immensely through this experience. It is often tricky, but let's do our best to achieve a delightful result!"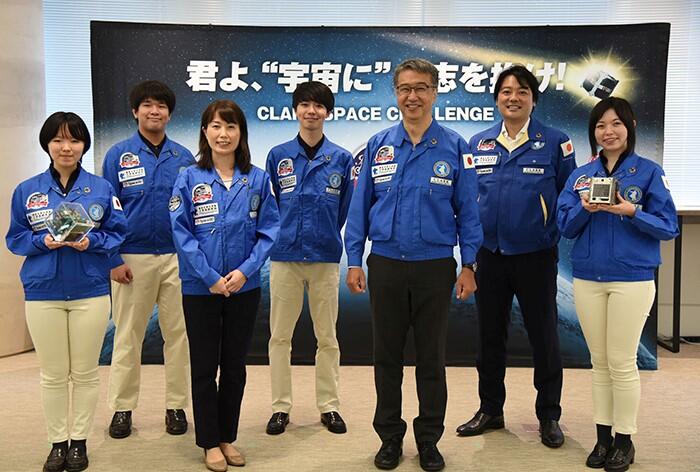 The high school opened in 1992, with the spirit of William Clark underpinning its educational philosophy.
This school was established at Fukugawa, Hokkaido, and a communication system and a unique "full-day education" system was introduced. It boasts more than 10,000 students across more than 50 locations nationwide
This article has been translated by JST with permission from The Science News Ltd.(https://sci-news.co.jp/). Unauthorized reproduction of the article and photographs is prohibited.