NTT DATA started providing their "Green Consulting Service" from January 14 toward the realization of a carbon-neutral society. The service supports the development of carbon neutral-related strategies that capture industry characteristics, both public and private, to implement emission reduction using digital technologies possessed by NTT DATA. For customers who have already started working on carbon neutrality, they will provide execution support using digital technology, and for customers who are aiming for carbon neutrality moving forward, they will provide consultation such as strategic planning and consistent services tailored to individual customer.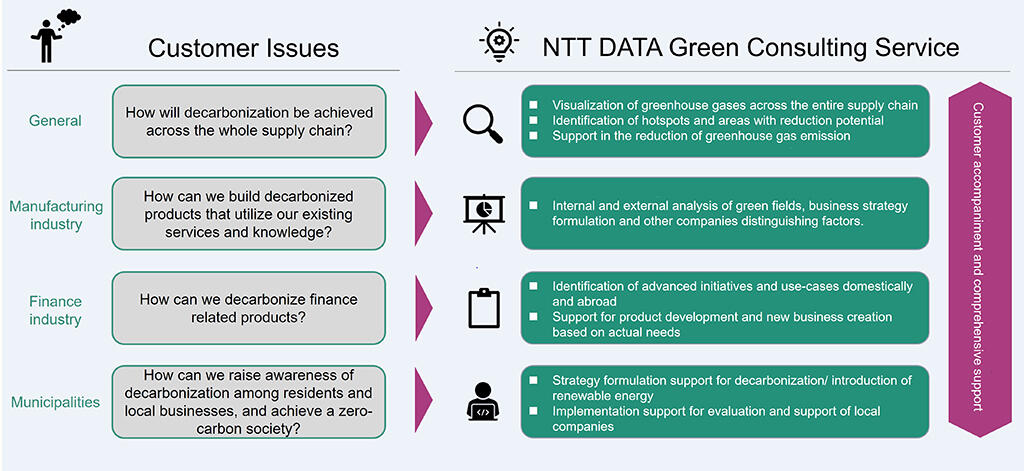 With regard to environmental analysis and strategy formulation, based on the analyses of macro environment and organization, such as future estimation of greenhouse gas emissions, NTT DATA formulates strategies such as decarbonization strategy/scenario planning, energy-saving plans suitable for business forms, and examinations of renewable energy procurement policy. In addition, to realize these strategies, the government will provide a wide range of support, including visualization of emissions using digital technology, support for emission reduction by introduction of energy conservation and renewable energy, provision of solutions such as optimization of power, and implementation of measures in specific areas. Furthermore, to visualize greenhouse gas emissions, which are of increasing demand, the company supports visualization of emissions based on a unique five-level definition that meets the business status of clients.
Currently, the visualization of greenhouse gas emissions in many companies remains at levels 0 to 1, which are estimated based on emission units, and challenges remain that individual reduction efforts are not reflected. Therefore, this Green Consultation Service will support the achievement of Visualization Level 2, which will lead to emission reduction actions. Specifically, for products that focus on "greenness", the company will develop an elaborate calculation process that accumulates life cycle emissions. In other areas, they will promote greenness by combining efficient calculation methods such as supplier-specific calculation methods, and they will provide a hybrid emission visualization mechanism that has both appealing power and feasibility with regard to greenness. Furthermore, they will develop a system that combines edge computing such as cloud services, low-code platforms, and sensing so that the visualization work of emissions can be automated.
In the future, they will integrate the cooperation of other companies between supply chains and development from level 3 to 4, which connects across industries, leading to reduction actions that involve society as a whole.
This article has been translated by JST with permission from The Science News Ltd.(https://sci-news.co.jp/). Unauthorized reproduction of the article and photographs is prohibited.