Using a mice model of Alzheimer's disease and obesity, the research group comprising Professor Toshiyuki Nakagawa and Kiyomi Nakagawa, Graduate School of Medicine, Gifu University, confirmed that chronic obesity activates endoplasmic reticulum stress in the hippocampus and that doublecortin mRNA, which is expressed during hippocampal neurogenesis and is important for cognitive function, is degraded by endoplasmic reticulum stress-induced microRNA.
The population in Japan is rapidly approaching a "super-aged" society, and prevention methods that improve individuals' ability to live with dementia and slow its onset and progression are urgently needed. It has been suggested that obesity and diabetes as well as a lack of exercise are involved in the onset of dementia in the elderly. Therefore, the research group developed a mice model of chronic obesity and investigated the mechanism of action on hippocampal neurogenesis, especially cell differentiation.
First, Alzheimer's disease-induced mice and wild-type mice were fed a high-fat diet over an extended period of time (43 weeks and 67 weeks, respectively) to develop mice models of chronic obesity and diabetes. In addition, leptin receptor-deficient mice, which were found to be obese at 6 weeks of age, were examined up to 60 weeks of age. When cognitive deficits in the mice models of chronic obesity were analyzed using the object location and object recognition tests, the exploration time for moved objects was significantly shortened, confirming the behavioral abnormalities. Furthermore, activation of the endoplasmic reticulum stress signal was confirmed by western blotting and immunohistochemical staining for the hippocampus of the mice models of chronic obesity. It was also confirmed that the neurites of doublecortin, which were specifically expressed in undifferentiated neurons, were short in the mice models of chronic obesity.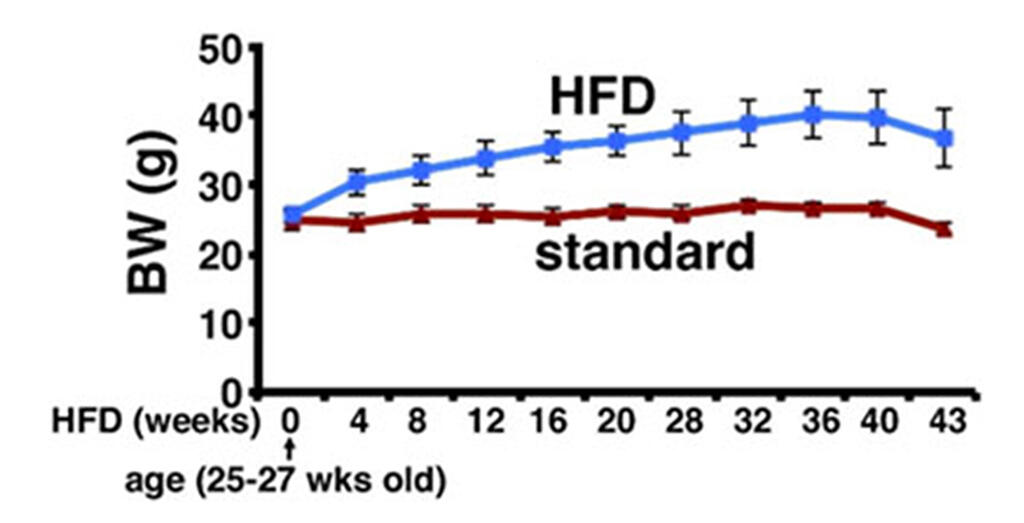 Moreover, it was proven that doublecortin mRNA expression was decreased under the following conditions: when neural stem cells were cultured from the hippocampus of the mice models, when the endoplasmic reticulum stress stimulus was delivered in differentiating cells, and when doublecortin expression was examined. As this decrease in doublecortin mRNA expression was recovered by the knockdown of Dicer, a multi-domain RNA cleavage enzyme, RNA extraction was performed after endoplasmic reticulum stress stimulation in the mice models and was compared with the findings in controls using microRNA sequencing. The increased expression of miR-148a-5p, miR129b-3p, and miR-135a-2-3p and the decreased expression of miR-1247-3p were observed in undifferentiated neuronal cells stimulated by endoplasmic reticulum stress.
Based on the results of this study, the research group believes that the hippocampal neurogenesis-endoplasmic reticulum stress-miRNA-doublecortin mRNA breakdown pathway is involved in the mechanism of the onset and progression of dementia. The research group hopes to develop a control method for this pathway and to identify miRNA that degrades human doublecortin mRNA.
■ Endoplasmic reticulum stress: The endoplasmic reticulum is an intracellular organelle that is involved in the regulation of intracellular calcium concentration, translation of membrane proteins and secretory proteins, and modification of sugar chains. The synthesized protein has a higher-order structure due to disulfide bonds and is folded. However, when an abnormality occurs in folding, three signals are transmitted to restore the fold to normal. In each signal, PERK, ATF6, and IRE1 proteins are activated and the translational repression and expression of the endoplasmic reticulum chaperone gene, among other genes, are observed.
■ Doublecortin: A microtubule-associated protein that has been suggested to be involved in cell migration. Doublecortin is identified as a causative gene of X-linked synovial encephalopathy and bilateral cortical syndrome, and doublecortin mutant female mice exhibit impaired hippocampal function.
TThis article has been translated by JST with permission from The Science News Ltd.(https://sci-news.co.jp/). Unauthorized reproduction of the article and photographs is prohibited.