Kyoto University's Academic Center for Computing and Media Studies, Local24, Tohoku University's Cyberscience Center, and the National Institute of Informatics (NII) have launched an international joint R&D project on 5G data offloading that uses Passpoint, a next-generation public wireless LAN technology. The project's international partner is GĒANT, an organization made up of National Research and Education Networks (NRENs) from European countries. These organizations provide research and education networks supported by the European Commission. Additionally, Internet Initiative Japan (IIJ) is helping with R&D, with cooperation from I-O Data Device to implement the project in society.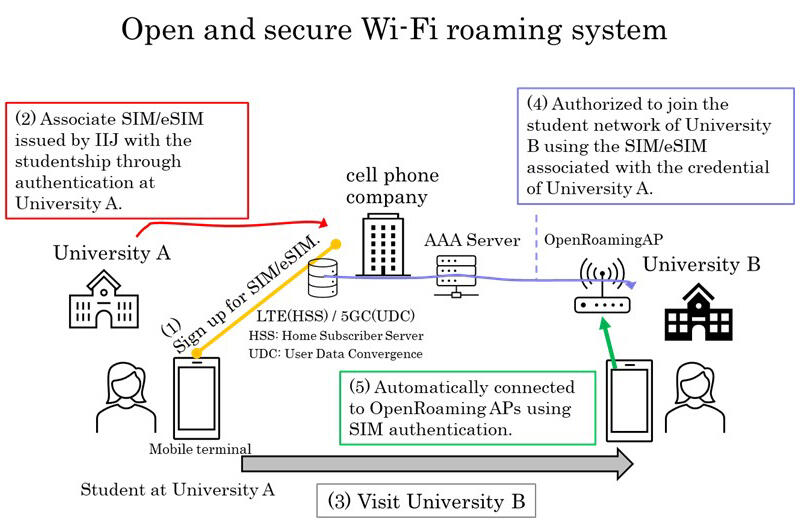 The project has been adopted by the Beyond 5G International Collaborative Research Program, part of the Beyond 5G R&D Promotion Project being run by the National Institute of Information and Communications Technology (NICT). The research theme will be: "Open and Secured Beyond 5G mobile data offloading using the next-generation public wireless LAN roaming."
The need for networked devices in society means that in addition to mobile data services such as LTE/5G, major mobile carriers (cell phone carriers) in Japan and abroad are providing IEEE802.11-based wireless LAN services (Wi-Fi) in areas with heavy usage. These Wi-Fi services are being used to reduce the load on the LTE/5G network through a process known as cellular offloading.
Passpoint is a technology (protocol) that enables SIM authentication by mobile carriers and centralized, secure authentication for roaming Wi-Fi services. OpenRoaming is an open international public Wi-Fi roaming framework based on Passpoint. When a mobile terminal receives a beacon frame (identification signal) from an access point, the roaming partner and authentication type are checked regardless of SSID (the wireless LAN identifier used in IEEE802.11), and an automatic, secure connection is provided using IEEE802.1X.
The international joint research project will establish technologies to realize mobile data offloading in the Beyond 5G era by making OpenRoaming widely available through eduroam, an international academic wireless LAN roaming framework, and free public Wi-Fi.
Specifically, the project will develop a method to enable users at universities and other academic research institutions to use OpenRoaming through Passpoint-based SIM authentication. This usage will be achieved by linking terminals that have mobile carrier contracts with their academic institutions for authentication. Additionally, SIM authentication will be used in this linked authentication to provide an authorization mechanism that allows for direct access to the institution's local network resources with low latency.
Furthermore, work will be performed to enable Wi-Fi communication, which tends to be fast across short distances but unstable across long distances, to be used simultaneously with mobile data-based communication, with usage split according to characteristics. For this purpose, the group is developing a dynamic communication route selection mechanism using the next-generation transport protocol QUIC's multipath extension. Specifically, work is being performed on the protocol's address and route selection mechanisms.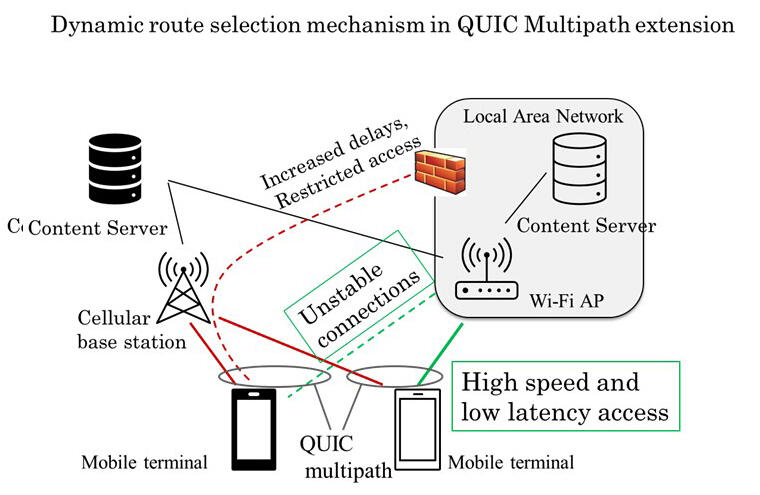 Participation from IIJ and I-O DATA DEVICE, two leading IT companies, will create an environment that enables efficient research and development that is focused on implementation in society.
This article has been translated by JST with permission from The Science News Ltd.(https://sci-news.co.jp/). Unauthorized reproduction of the article and photographs is prohibited.