A joint research team consisting of Associate Professor Hiroshi Fukuda of the Graduate School of Environmental and Life Science (Agriculture), Okayama University; Hiroshi Ishikawa, a resident of Matsuyama City; Soma Ito, an undergraduate student of the Department of Biological Sciences, Faculty of Science and Technology, Kochi University and Dr. Takuma Haga, a Principal Researcher of the National Museum of Nature and Science has discovered a new species of Bivalvia: Tellinidae: Nitidotellina from the Hachi-no-Higata tidal flats in Takehara City, Hiroshima Prefecture; it has been recorded as Nitidotellina hachiensis (hachizakura).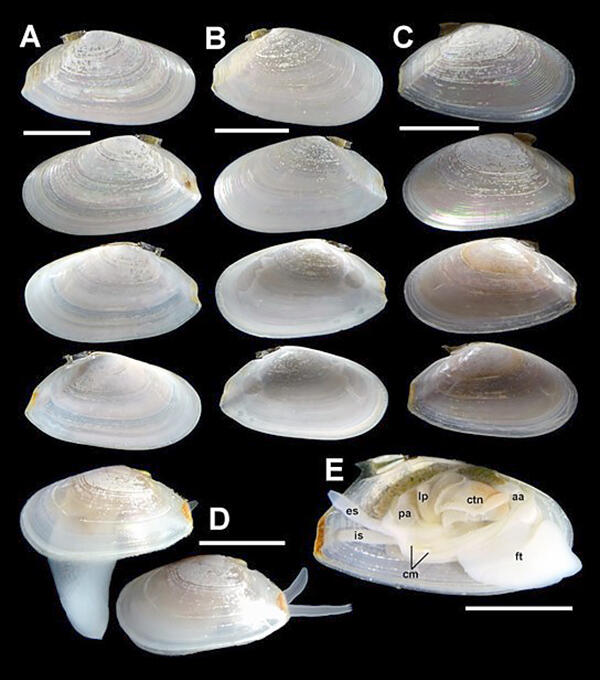 While living individuals of this new species were confirmed in the central and western parts of the Seto Inland Sea (Okayama, Hiroshima, Yamaguchi and Ehime Prefectures), fossils were found in the Pleistocene Chibanian layer in Aichi Prefecture. This is a rare species, and it is highly possible that its distribution range has now shrunk considerably; there are concerns that it will become extinct in the near future. Meanwhile, plans to construct a power plant on the Hachi-no-Higata tidal flats are going ahead without an environmental impact assessment, and there is uneasiness regarding the effects on the population of this species and its habitat. The team's results were published online in Molluscan Research.
Associate Professor Fukuda commented, 'Last summer, plans to construct a power plant on the Hachi-no-Higata tidal flats surfaced, and five academic societies considered submitting a written request calling for environmental conservation; when I attempted to inform lots of people about the high and valuable biodiversity of this area on the Twitter account of the Society for the Study of Molluscan Diversity, which I used as the "middle-man", I confirmed the existence of this new species, hachizakura, while I was introducing rare species of shellfish, one after another. It all started when I was trying to take pictures of an uzuzakura - when I reviewed samples collected around 20 years ago, I realized that they had the potential to be a separate species. In this sense, while hachizakura is a species discovered on the Hachi-no-Higata tidal flats, it was also discovered from samples that had been sleeping for many years in a research lab on the premise of the use of social media, so I think we can say this is a very current new species.'
Journal Information
Publication: Molluscan Research
Title: Nitidotellina hachiensis n. sp. (Bivalvia: Tellinidae) from the Seto Inland Sea, between Honshū and Shikoku, western Japan
DOI: 10.1080/13235818.2022.2068112
This article has been translated by JST with permission from The Science News Ltd.(https://sci-news.co.jp/). Unauthorized reproduction of the article and photographs is prohibited.