The research group of Professor Ryuichi Okamoto of the Department of Gastroenterology and Hepatology at the Tokyo Medical and Dental University School of Medicine and of Distinguished Professor Mamoru Watanabe of the TMDU Advanced Research Institute, who also serves as Academic Advisor and Vice President of Special Projects for Tokyo Medical and Dental University announced on July 7 that it had conducted the first clinical study of regenerative medicine, in which three-dimensional organoids (autologous intestinal epithelial organoids that include intestinal epithelial stem cells), cultured from the patient's own healthy large intestine mucosal tissue were transplanted into patients with refractory ulcerative colitis. This is the world's first organoid transplant for refractory ulcerative colitis, which is difficult to cure with steroids and other drugs, and the first transplant of organoids into the human body.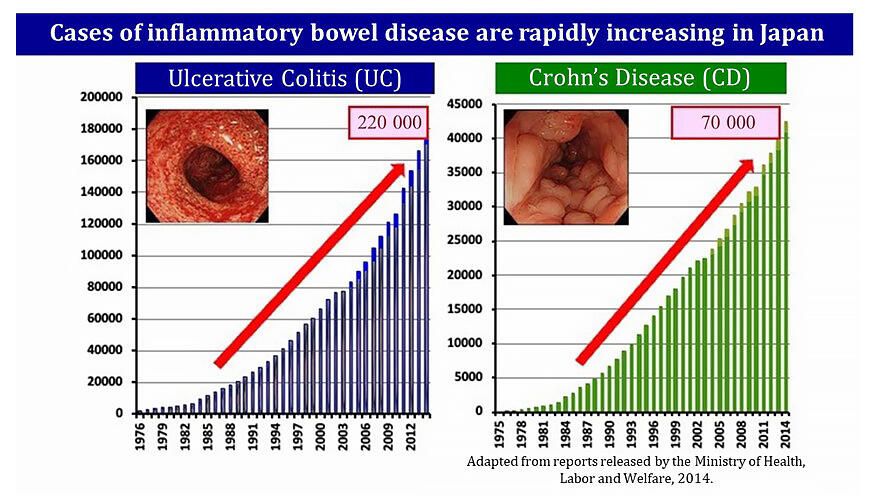 This research was supported by the Japan Agency for Medical Research and Development's (AMED) Research Center Network for Realization of Regenerative Medicine. The other members of the research group were Tokyo Medical and Dental University Junior Associate Professor Tomohiro Mizutani (Graduate School of Medical and Dental Sciences Department of Gastroenterology and Hepatology), Assistant Professor Hiromichi Simizu (Center for Stem Cell and Regenerative Medicine), Professor of Specialized Medical Care Kazuo Ohtsuka (Director of Department of Endoscopy at Tokyo Medical and Dental University Medical Hospital), and Assistant Professor Masayoshi Fukuda (Department of Endoscopy at Tokyo Medical and Dental University Medical Hospital).
Ulcerative colitis is a designated intractable disease that causes chronic inflammation of the gastrointestinal tract, and there are an estimated 220,000 patients with it in Japan. In order to keep the disease in a good condition (remission) for a long time, it is important to address not just the symptoms and inflammation, but also to achieve mucosal healing, which repairs and regenerates the mucosal epithelium of the intestine damaged by the inflammation.
However, there have been no treatment options to promote tissue regeneration for patients with ulcerative colitis who are unable to achieve mucosal healing due to intractable ulceration that delays intestinal repair and regeneration despite various drug therapies.
In this study, the research group developed a transplantation technique in which organoids (artificial miniature organs) containing intestinal epithelial stem cells, the initiation point for mucosal epithelial regeneration, are cultured and manufactured from a small amount of colonic mucosal tissue collected from the ulcerative colitis patients themselves. After increasing to a large quantity of organoids, they are spread on the ulcer site through a tube via the use of an endoscope, and are then fixed in place with fibrin glue.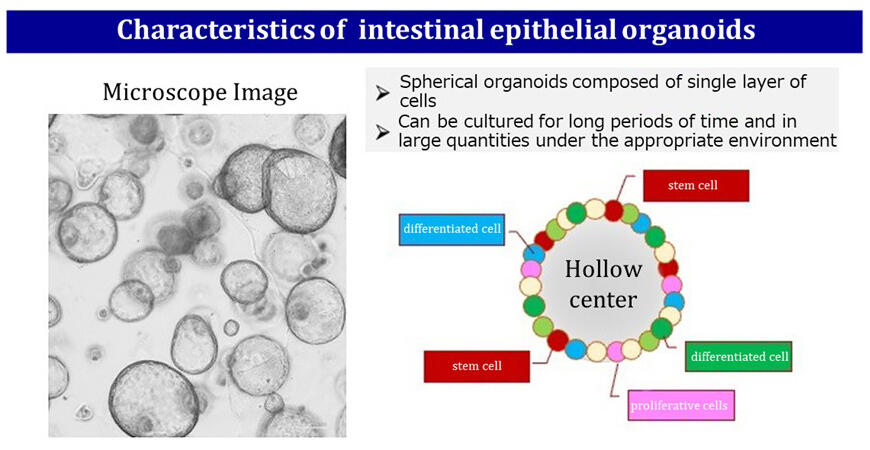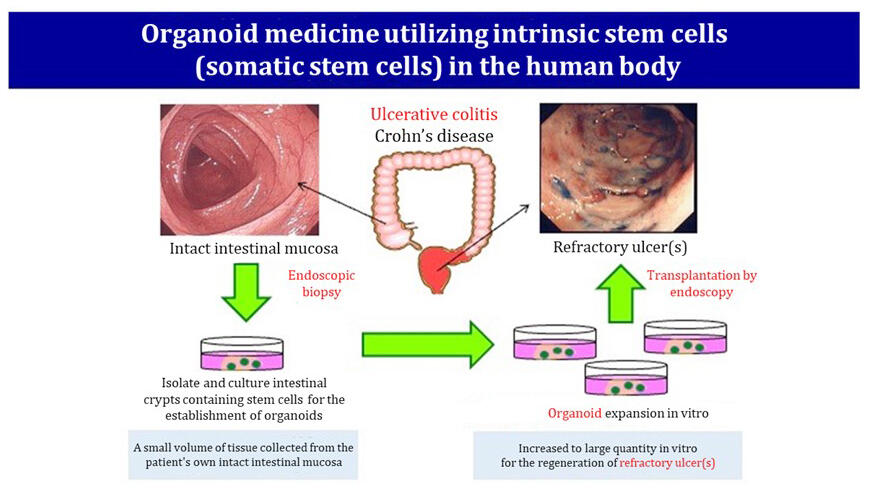 Each organoid is 100 to 200 micrometers in size, and are cultured over a period of about one month to produce a large quantity. Unlike the two-dimensional cell sheets used in regenerative medicine, these intestinal epithelial organoids are three-dimensional spherical organoids consisting of a layer of cells. The center of the spheres are hollow, and the surrounding areas contain not only stem cells, but also differentiated cells and proliferative cells, which settle in the damaged ulcer area and regenerate the mucosa.
At the press conference, Professor Okamoto said, "It took us nine years to reach this point. We had to travel a long road to get to transplantation."
Instead of regenerative medicine using iPS cells, from the beginning the research group set their sights on somatic stem-cell based organoids, which are three-dimensional aggregates of cells with a structure and function similar to small organs, and have been developing the technology. Professor Okamoto explained that the research group's advanced technologies, including organoid culture and transplantation techniques, have enabled them to reach this point.
This is the first of eight transplants planned for the clinical program, which were selected from 2,653 cases at the university's Advanced Clinical Center for Inflammatory Bowel Diseases. The transplant operation was successful, and the patient was discharged from the hospital.
The research group plans to observe the patients for one year to evaluate safety and other factors. Additionally, the plan is to do the second and subsequent cases, for a total of eight cases, in about 18 months.
This article has been translated by JST with permission from The Science News Ltd.(https://sci-news.co.jp/). Unauthorized reproduction of the article and photographs is prohibited.