Tokai National Higher Education and Research System (consists of Nagoya University and Gifu University, hereafter "Tokai"), DWANGO Co., Ltd., and KADOKAWA Corporation have agreed to expand their university functions. Their expansion is focused on developing STEAM education (science, technology, engineering, the arts, and mathematics) for the next generation aimed at high school students and highly specialized recurrent education aimed at working adults. The group's goal is to realize Tokai's "Digital University Concept".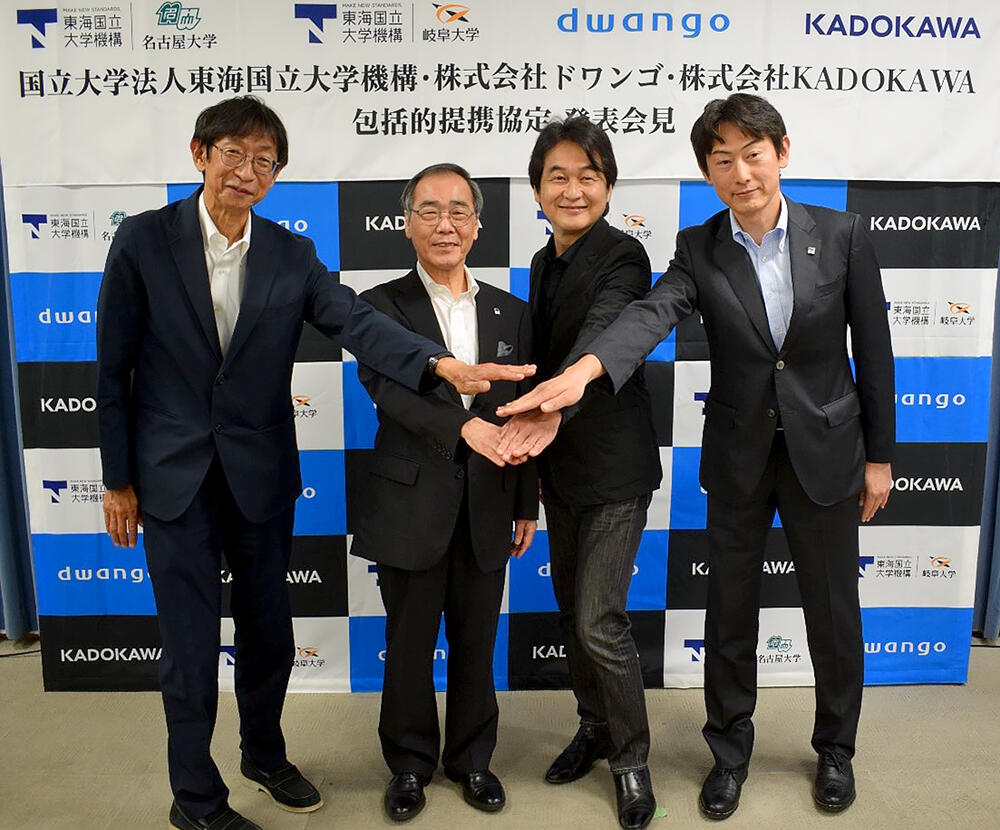 Tokai has been promoting this concept since the merger between Nagoya University and Gifu University and has been seeking to collaborate with companies to create new university services. DWANGO has a proven track record of utilizing video content distribution and fostering user communities, including its video sharing platform NicoNico and N Prep School services. It was already considering opportunities to expand its distribution technologies and know-how further. Since CEO Takeshi Natsuno had already lectured at Nagoya University, discussions were underway for a more comprehensive collaboration based on the belief that combining the group members' respective opportunities and experiences would enable new educational services to be developed.
Based on the group's agreement, lecture content focused on cutting-edge research for solving social issues, an area of focus for Tokai, will be provided to N and S High School students (21,000 individuals), which DWANGO supports through its operations. It will also be provided to society at large. The hope is to provide viewers with a true sense of the significance and importance of advanced technologies, enhancing their motivation to learn and develop human resources that will support future innovation ecosystems.
DWANGO, which has been involved in video distribution, will support the data scientist training for working people that Tokai is aiming for. The group will jointly develop an efficient and effective management method for online recurrent education, also providing it to other universities and educational institutions.
Seiichi Matsuo, Director of Tokai, said, "As the first step, we will provide a practical data scientist training program. We want DWANGO to test measures for utilization while putting the program into practice. We want to spread awareness of this program to society by raising awareness of our results. COVID-19 has changed the very nature of education. Digital technologies are producing new educational initiatives, and the operations supporting them are also changing. We want to absorb DWANGO and KADOKAWA's know-how in this field while taking on the challenge of new educational initiatives."
Kazuya Takeda, Assistant Director of Tokai, said, "The Practical Data Scientist Training Program is a form of reskilling, but it will also allow the next generation of workers to experience cutting-edge research firsthand. I would first like to provide N and S high school students with opportunities to experience cutting-edge research in areas such as automated driving at the Global Research Institute for Mobility in Society Institutes of Innovation for Future Society and then gradually expand the scope of the program to other fields."
Takeshi Natsuno, CEO of DWANGO (and President of KADOKAWA), said, "In terms of high school education, we are already operating N and S High School, the largest high schools in Japan, and proven that we can provide online education that is comparable to real life. However, we have not yet provided university education. The Digital University Concept fits in well with our know-how in distribution technologies and user communities. This collaboration will significantly increase our educational content. In addition, Nagoya University and Gifu University are hubs for industries in the Chukyo and Tokai regions. We are considering the possibility of using this partnership as an opportunity for students from N and S High Schools to do internships at companies that make up the Tokai region's innovation ecosystem. It's an excellent opportunity for them to learn about companies and academic fields."
This article has been translated by JST with permission from The Science News Ltd.(https://sci-news.co.jp/). Unauthorized reproduction of the article and photographs is prohibited.