CTI Engineering Co., Ltd. has used a laser-sounding inspection device, which replaces and quantifies sounding inspections performed by humans, to support the diagnostic testing of the concrete lining of railroad tunnels. The device was produced based on joint research results by the National Institutes for Quantum Science and Technology (QST), and as part of a joint R&D project with Photon-Labo, a RIKEN venture company certified by QST.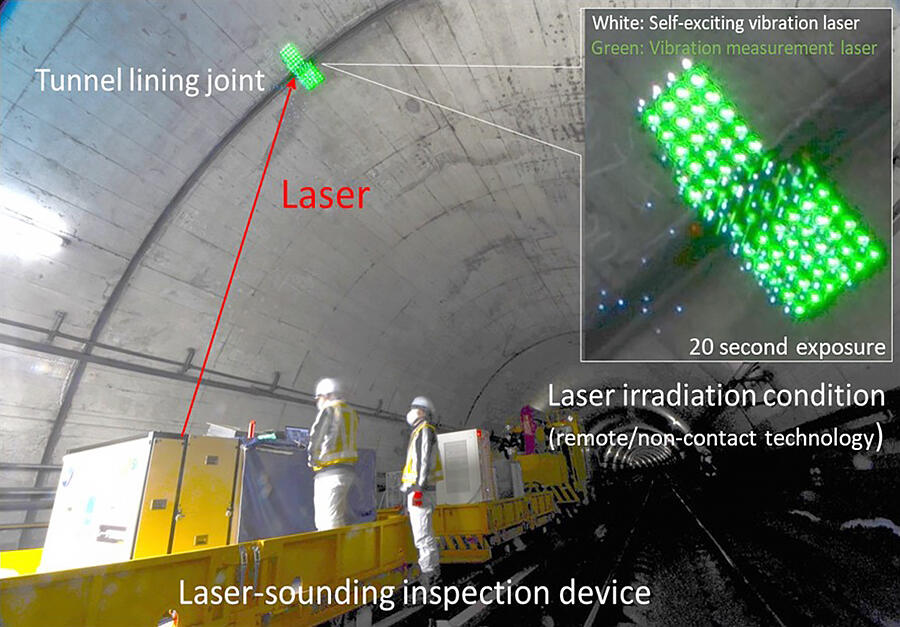 Conventional tunnel inspections, part of regular maintenance and preservation work for tunnels and other facilities, involve specialized technicians performing visual and sounding inspections. These inspections require both time and effort and can be dangerous. There are also concerns about variability in results depending on the technician performing the inspection. In addition, a shortage of individuals who can perform these inspections has produced a strong need for practical remote and contactless measurement technologies to supplement and support these processes. To meet this need, QST has promoted the full-scale practical implementation of laser sounding as a diagnostic testing support technology for periodic road tunnel inspection work. These technologies emerged from research conducted under the Cabinet Office-led Strategic Innovation Promotion Program (SIP).
Using the experience and knowledge gained through implementation of diagnostic testing support technologies for roads and tunnels, the system has been implemented for measurement and diagnostic support for the joints of the concrete lining of railroad tunnels. Laser-sounding inspection equipment mounted on 4-ton trucks used during road tunnel inspections was dispersed and placed on railroad cars used for maintaining railroad tunnels for transport into the tunnels themselves. Researchers took measurements in the areas along joints in the concrete lining where conventional manual sounding inspections had diagnosed deformities that could lead to poor performance. In addition, areas with internal defects were identified and recorded as quantitative data. The inspection device enables quantitative evaluations of progression in deformation by measuring the vibration spectrum with a laser-sounding inspection device at the next inspection and observing whether the vibration spectrum has changed.
Deformities diagnosed as potentially causing reduced performance during previous inspections create a challenge when attempting to quantitatively evaluate the progression of deterioration through conventional close visual inspections. However, by enabling quantitative records to be kept and quantitative comparisons to be made at the next inspection, the laser-based system can be used to diagnose the progress of deterioration that leads to concrete spalling. By continuously obtaining these records, it will be possible to reduce the scope of conventional close-up visual inspections conducted by humans ahead of time. This improvement is expected to contribute to more efficient and sophisticated inspection and maintenance activities.
The group created a practical implementation of a laser-sounding inspection device by focusing on joints in the concrete lining of tunnels. However, the group plans to make further developments, improving its ability to diagnose various deformities and shortening measurement time to make inspection and maintenance activities more efficient and sophisticated.
This article has been translated by JST with permission from The Science News Ltd.(https://sci-news.co.jp/). Unauthorized reproduction of the article and photographs is prohibited.