Hioki E.E. Corporation, (Ueda City, Nagano Prefecture), a provider of electrical measurement solutions, announced that Yanekara (Taito-ku, Tokyo), a University of Tokyo startup developing a next-generation electric vehicle (EV) charging and discharging platform, has constructed an off-grid EV charging system that uses EVs as storage batteries. Hioki has announced that it will begin a demonstration project at its head office to recharge the company's newly purchased EVs with solar power.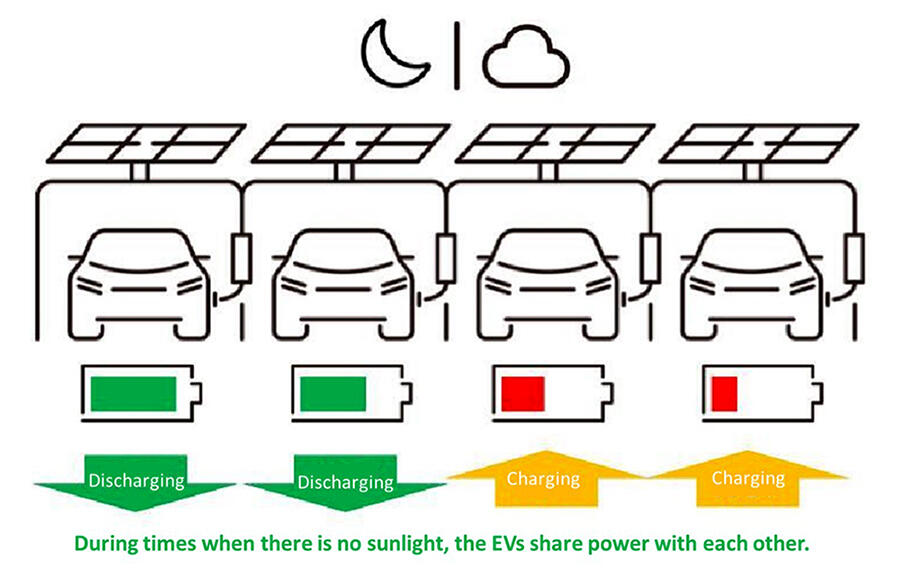 In order to charge EVs with renewable energy, electricity derived from renewable energy is generally purchased from the power grid. However, existing large flat parking lots require long-distance buried piping and overhead wiring work when installing chargers and drawing power from the grid, which results in significant construction work and costs.
This demonstration experiment seeks to solve this problem by using an off-grid EV charging station powered by a solar carport that does not depend on the power grid of an electric power company. The system requires storage batteries, and the demonstration will use Yanekara's next-generation V2X equipment, YaneBox, to construct an off-grid recharging system by using EVs as storage batteries in place of stationary storage batteries.
YaneBox is a V2X device that can not only charge and discharge multiple EVs with a single unit, but also charge EVs with DC electricity generated by solar power. V2X stands for "Vehicle to X" and is a technology that collectively refers to the connection and interconnection between vehicles and people, objects and other things.
In the demonstration experiment, multiple EVs will be connected to the YaneBox, which will feed power to EVs connected to adjacent regular charging outlets, aiming to realize an off-grid charging system without using stationary storage batteries.
This V2V (Vehicle to Vehicle) system is expected to overcome the cost challenges of conventional off-grid charging systems by maximizing the use of EV batteries, which have a lower kWh unit cost than stationary storage batteries.
In the demonstration test, the YaneBox will be attached to a solar carport to verify its functionality for charging three company EVs off-grid. The verification will utilize Hioki's advanced power measurement technology to measure the balance between the effective use and loss of power to calculate the optimal capacity of solar panels and storage batteries for off-grid operation.
In addition, they will study which combinations of vehicles with different usage patterns can be used to construct an off-grid charging system utilizing V2V charging in a stable manner. Hioki formulated the Hioki Sustainability Declaration based on its Basic Sustainability Policy, and has set the goal of achieving carbon neutrality by 2025 for Scope 1: direct greenhouse gas emissions by businesses themselves (fuel combustion, industrial processes) and Scope 2: indirect emissions from the use of electricity, heat and steam supplied by other companies.
To realize this goal, the company intends to promote the use of EVs in company vehicles and has decided to conduct demonstration tests together with Yanekara in order to co-create a new society based on its Vision 2030 long-term management policy.
This article has been translated by JST with permission from The Science News Ltd.(https://sci-news.co.jp/). Unauthorized reproduction of the article and photographs is prohibited.