On September 5, NEC announced that it had developed technology enabling space-based optical transmissions at 10 Gbps (gigabits per second), enabling the fastest-ever speeds in space. It also announced that a prototype had been manufactured using this technology. This technology will be installed on Engineering Test Satellite No. 9 (ETS-9), which is scheduled to be launched in FY2023, to verify its operation in space. NEC intends to use the results of this in-orbit verification to further improve the system's long-term reliability while reducing its cost and size.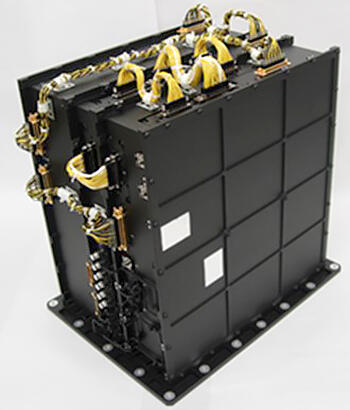 So far, Europe has taken the lead in the practical application of optical-based space transmissions. In 2017, the European Data Relay System (EDRS) began using geostationary satellite-to-low earth orbit satellite transmissions at a transmission rate of 2 Gbps, using 1.06-μm signal optical wavelengths.
In contrast, in Japan, the Japan Aerospace Exploration Agency (JAXA) launched the Laser Utilizing Communication System (LUCAS) in 2020. The system uses the 1.55 μm band, which is widely used in high-speed optical transmission systems for terrestrial applications. LUCAS enables high-speed 2 Gbps optical communications between geostationary orbit satellites and low earth orbit satellites.
In addition to data relay systems, the use of space-based optical transmission systems is also attracting attention as a means of constructing networks using high-speed general-purpose satellite transmission and broadcasting systems based on geostationary satellites (High Throughput Satellites (HTS)) and satellite constellations based on low orbit satellites (in which multiple satellites are linked and coordinate to function together).
This latest technology developed by NEC is designed for use in satellite-to-ground feeder links in HTS systems and is being developed for compatibility with multi-user RF links in mind, in addition to higher speeds. The 10 Gbps optical communication equipment uses the 1.55 μm band for use with LUCAS. It is designed for long-distance systems that are approximately 40,000 km apart. This specification corresponds to the distance between a geostationary satellite and the ground and between a geostationary satellite and a low earth satellite. To achieve this, it incorporates various measures to improve reception sensitivity, such as the adoption of optimal error correction coding technologies. Combined, these specifications ease the conditions for establishing transmission lines.
Geostationary satellites, which are designed to operate for long periods of time, require high reliability in their onboard systems. However, there are few components under development in the 10 Gbps ultra-high-speed range that are guaranteed to operate in space. In response, NEC has developed new selection and mounting methods for optical components to be used in ground systems and high-frequency components to be used in space systems. In addition, to enable compatibility with multi-user RF links in HTS and connected networks, and for seamless connectivity with terrestrial transmission systems, Ethernet, a standard in terrestrial systems, was adopted as the interface.
Research and development was conducted by the National Institute of Information and Communications Technology (NICT) under the "R&D for Domestic Production and Reliability Assurance of Satellite-Borne Optical Transmission Devices" commissioned research project for advanced transmission and broadcasting research and development.
This article has been translated by JST with permission from The Science News Ltd.(https://sci-news.co.jp/). Unauthorized reproduction of the article and photographs is prohibited.