A research group made up of Professor Hiroshi Ueda of the Laboratory for Chemistry and Life Science, Institute of Innovative Research, Tokyo Institute of Technology; graduate student Yancen Dai of the School of Life Science and Technology, Department of Life Science and Technology, Tokyo Institute of Technology; Assistant Professor Yuko Sato and Professor Hiroshi Kimura of the Cell Biology Center, Institute of Innovative Research, Tokyo Institute of Technology; Group Leader Farid Ghadessy of the Singaporean Agency for Science, Technology and Research (A*STAR), and their colleagues has succeeded in using Intra Q-body, an antibody fragment that fluoresces when it binds to antigens in the cell, as a biosensor that enables the observation of spatiotemporal change in the quantity of proteins in living cells.
Antigens on the surface of cells can easily be observed using fluorescently labelled antibodies, but intracellular visualization of antigens was not possible without immobilizing, staining, and washing them, making application limited.
The research group has previously constructed Quenchbody (Q-body), a fragment antibody that has been subject to site-specific chemical modification using a fluorophore. The group was able to detect several substances as antigens by looking at the changes in fluorescence intensity when the Q-body was irradiated by an excitation light. However, while they were able to easily detect biomarker proteins on the surface of cells, they could not detect or form images of intracellular proteins.
From this background the group created a stable Q-body that can detect p53, a cancer-suppressing protein with a high response in cells. By introducing this into cells using electroporation, the group succeeded in carrying out real-time imaging of p53 not only in immobilized cells, but also in living cells, where application was difficult.
With this system using Q-bodies, the group was able to observe the temporal changes in the amount of p53 in living cells that resulted from the administration of an anti-cancer drug over more than 24 hours with high responsiveness and accuracy. They also succeeded in concentrating only the cells that express p53 from among cell groups with different expression levels via cell sorting.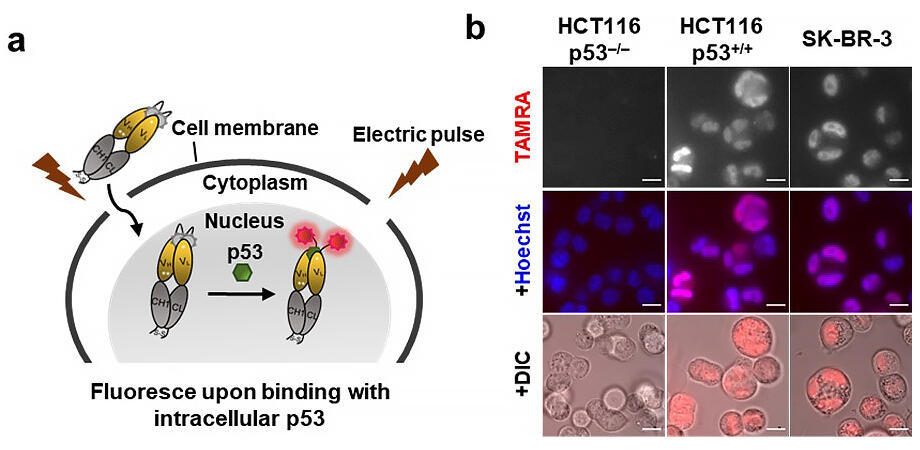 It is anticipated that this method will enable researchers to easily detect and isolate cells that express various intracellular biomarkers, and lead to effective cell therapy in the future. Ueda commented, "If we can introduce Q-bodies for various intracellular antigens into cells more easily, we anticipate that it will be easier to isolate cells that will be useful for cell therapy and cells that produce useful substances."
■ Quenchbody: An antibody made by subjecting a fragment antibody to site-specific chemical modification using a fluorophore. This can detect antigens via changes in fluorescence intensity by utilizing the phenomenon in which the fluorophore is quenched by amino acids in an antibody.
■ Electroporation: A method to introduce biological polymers such as nucleic acids and proteins to cells by applying a high-voltage pulse to a cell and temporarily disturbing the membrane.
This article has been translated by JST with permission from The Science News Ltd.(https://sci-news.co.jp/). Unauthorized reproduction of the article and photographs is prohibited.