KDDI Research, Inc. (Hajime Nakamura, President and CEO) and the National Institute of Polar Research (NIPR) (headed by Director-General Prof. Takuji Nakamura) announced on December 15 that they had used a satellite communication line (maximum 7 Mbps) to transmit real-time 8K video from Antarctica to KDDI research atelier. In other words, they have achieved the stable transmission of 8K video over a narrowband network. This could make it possible to easily transmit video that is captured by commercially available 8K compatible smartphones in real-time. Going forward, the researchers aim to make further improvements by conducting trial operations with the Japanese Antarctic Research Expedition.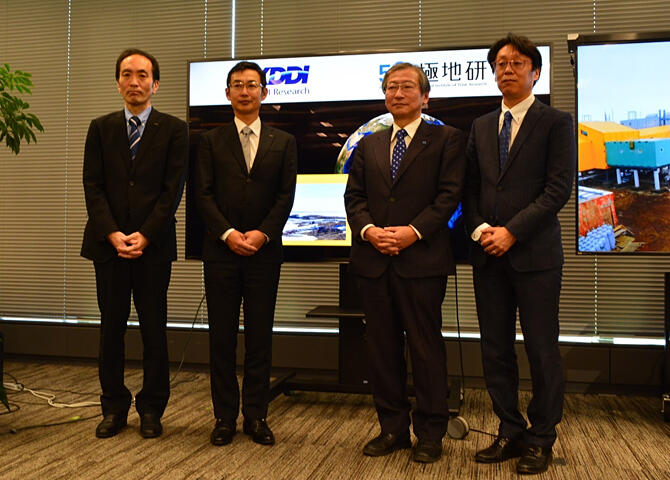 Until now, only HDTV quality images could be transmitted from Syowa Station, but this research has enabled a huge improvement to 8K quality images. The transmitted images were so high quality that individual snowflakes in a blizzard could be seen. It is expected that this will let the natural environment in Syowa Station and the rest of the base be conveyed with a high degree of realism.

Konishi said, "We are very pleased that this initiative will support global environmental observation, research and development, and ICT-based initiatives. As Japanese science and technology enters the 6G era towards 2030, not only 2D, but also 3D images will become available, and image compression technology will become increasingly important. KDDI and KDDI Research will continue working even harder on compression technologies."
Director-General Nakamura stated, "NIPR will celebrate its 50th anniversary next year. We would like to take advantage of this milestone by utilizing the 8K high-definition images - developed through our joint research - to convey images of Antarctica to the wider public and contribute to protecting Antarctica and advancing the SDGs, which are the future of humanity."
In November 2022, both parties used the remote work support system "VistaFinder Mx," which was developed by KDDI Research, to demonstrate the real-time transmission of 8K video via the use of a satellite communication line (maximum 7 Mbps) that connected Syowa Station and the NIPR's Tachikawa Campus in the first successful experiment of this type in the Antarctic region.
Using KDDI Research's video compression technology, encoder control was optimized to take into account video characteristics that are unique to filming in Antarctica. This enables transmission of 8K video at 1/16 the data volume of conventional systems. Satellite lines are capable of a maximum of 7 Mbps, but, in consideration of other normal uses, transmission is only possible at an average speed of 5 Mbps.
In addition, assuming that smartphones would be used to shoot the videos, the researchers also confirmed stable operations even in cold regions, by controlling the processing load.
By using this system, NIPR will be able to provide a variety of technical and remote medical support to the limited number of personnel operating from the base. They also expect that the system will be able to provide more effective education by providing realistic images for the lessons that the team members give from Antarctica to schools in Japan and for the exhibitions at the Polar Science Museum.
This article has been translated by JST with permission from The Science News Ltd. (https://sci-news.co.jp/). Unauthorized reproduction of the article and photographs is prohibited.