A research group led by Professor Kiyokazu Nakajima of the Department of Next Generation Endoscopic Intervention, Graduate School of Medicine, Osaka University, has developed a new product, "Lapahot®," in collaboration with Daiei Co., Ltd. (Osaka City), that uses portable warming technology to solve the longstanding clinical problem of fogging and contamination of surgical scopes.
If surgical scopes are not heated before insertion into a body cavity, they may fog up due to condensation, making surgery unsafe as a field of vision cannot be established. On top of this, the scope must be removed and cleaned each time the lens becomes contaminated with bodily fluids or other contaminants. Currently, measures include the warm water bath method, in which a specially heated saline solution is packed in a sterile thermos, and the use of special equipment made in foreign countries. The water method is a burden for staff, requiring them to prepare and refill hot water every two hours, while the special equipment does not last long and generates a lot of waste, such as spent batteries.
The research group has been constantly examining the possibility of solving this problem using Japanese manufacturing technology and has found a solution in the development of equipment in collaboration with India. By applying the technology of penetrating, drying, and sterilizing surfactants on the surface of non-woven fabrics to portable body warmers, for which Japan dominates the world market, the researchers have developed "Lapahot®," which can prevent fogging (warming) and eliminate contamination (cleaning) at the same time.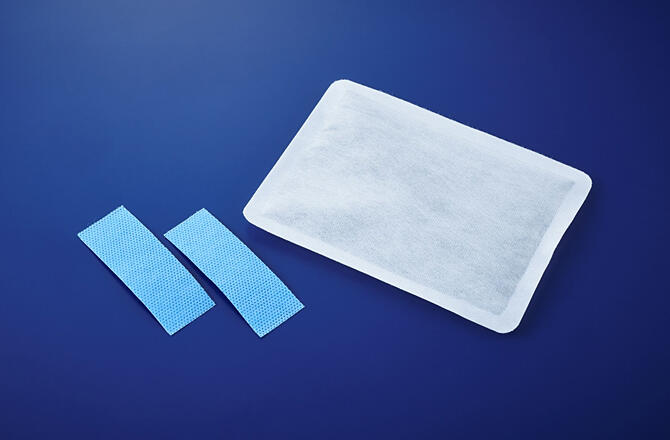 The University's joint research division and Daiei jointly designed, prototyped, and evaluated the performance of the product, verified safety and usefulness, and secured intellectual property. Its safety and efficacy have already been confirmed through small-scale clinical evaluations at the Department of Surgery and the Department of Gastrointestinal Surgery at the Osaka University Hospital. The product was unveiled and officially launched at the 35th Annual Meeting of the Japan Society for Endoscopic Surgery held in Nagoya, Japan, from December 8.
"To begin with, we had to solve various problems at the basic level to the pre-practical stage one by one, such as how many degrees Celsius lower than body temperature the scope would fog up, how to clean contamination efficiently, and whether there would be any deterioration in quality during the sterilization process," explained Nakajima. "We first marketed the product in Japan, but in the future, we would like to expand the business to include emerging countries as soon as we can."
This article has been translated by JST with permission from The Science News Ltd. (https://sci-news.co.jp/). Unauthorized reproduction of the article and photographs is prohibited.