A research group composed of Assistant Professor Toshiaki Ohara and Professor Akihiro Matsukawa of the Department of Pathology and Experimental Medicine (Immunopathology), Graduate School of Medicine, Dentistry and Pharmaceutical Sciences, Okayama University, Research Professor Yuta Nishina of the Research Core for Interdisciplinary Sciences, Okayama University, Section Chief Ken Yuasa and Chief Researcher Kentaro Kimura of Takasago Thermal Engineering Co., Ltd., and Director Kayoko Kotoda of Cascade Resources Research Institute, have succeeded in developing a technology to efficiently remove water from wood to extract water-soluble lignin by compressing it along a straw like vessel using a roller press.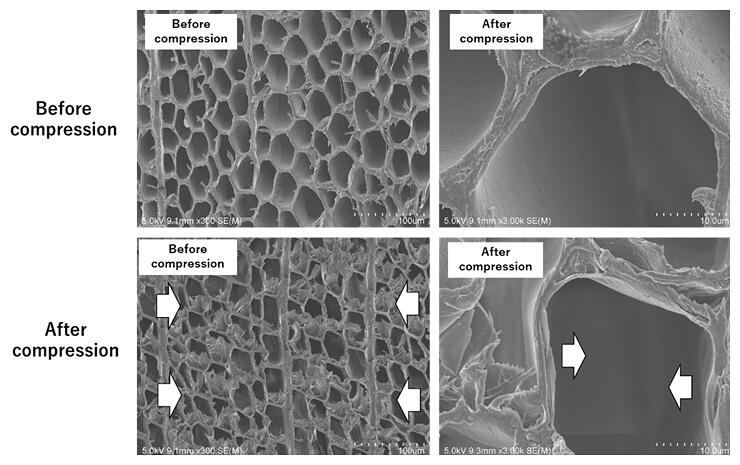 For boilers to run efficiently on woody biomass, the moisture content of the fuel chips must be reduced by drying them through heating or natural seasoning, but cost and time concerns have been major challenges.
The research group demonstrated that compressing wood along straw like vessels limits the reabsorption of water that occurs when chips are pressed, allowing water to be removed more efficiently than previously possible. This can significantly reduce the cost and time associated with drying. It can also be used as a new method of fuel production. The actual pressing of the wood with a roller press reduced the moisture content to less than 35%, demonstrating that water-soluble lignin can be obtained at the same time.
This technology is expected to reduce carbon emissions by promoting the use of renewable energy sources through more efficient production of woody biomass fuel. It may also be useful in promoting the use of non-woody biomass fuels, as it can be applied to bamboo and herbaceous plants other than wood. At the same time, new renewable materials are being explored. For example, it is possible to recover lignin without using chemicals or heat.
"In the future, in addition to the realization of a new biomass fuel supply using this method, we want to recover water-soluble lignin and produce nanocarbons from 100% renewable raw materials," explained Ohara.
Journal Information
Publication: Journal of Material Cycles and Waste Management
Title: A Novel Mechanical Plant Compression System for Biomass Fuel and Acquisition of Squeezed Liquid with Water-soluble Lignin as Anti-virus Materials
DOI: 10.1007/s10163-022-01531-5
This article has been translated by JST with permission from The Science News Ltd. (https://sci-news.co.jp/). Unauthorized reproduction of the article and photographs is prohibited.