A study has revealed a correlation between loneliness and bullying victimization, with 35.1% of adolescents from low and middle‐income countries reported as being victims of bullying within the past 30 days. A research group consisting of Professor Toshiaki Shimizu of the Department of Pediatrics at the Faculty of Medicine, Associate Professor Ai Noda (Ikeda) of the Department of Public Health, Juntendo University, and Senior Researcher Mariko Hosozawa from the Institute for Global Health Policy Research, National Center for Global Health and Medicine, together with researchers from the University College London in the UK, used data from a World Health Organization (WHO) survey of 248,017 students to conduct an international comparison of the frequency of loneliness and related factors (gender, experience being bullied, and having close friends) in 70 countries. They focused on countries in Africa, America, and Asia, finding that about 12% of adolescents felt lonely, with exceptionally high rates in Africa and the Eastern Mediterranean regions. The group's results were published in the Journal of Adolescent Health.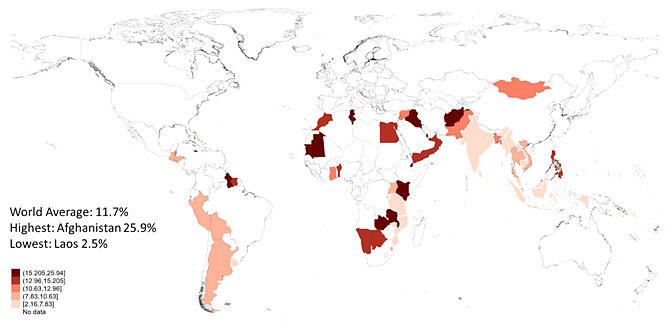 Loneliness among adolescents has gained attention in recent years due to its adverse effects on mental and physical health, including associations with drinking, smoking, drug abuse, mental illness, and suicide. However, previous studies were conducted mainly in high‐income western countries, and investigations of low‐ and middle‐income countries in Africa and Asia have been insufficient.
The research group used the Global School‐based Student Health Survey, a large dataset published by the WHO that includes 248,017 adolescent subjects aged 13‐17. Loneliness was defined as feeling "often" or "always" lonely in the past 12 months, and the frequency of loneliness was calculated for each country. The associations with related factors such as gender, experience being bullied, and having close friends were also calculated for each country.
Additionally, a meta‐analysis was used to calculate the frequency of loneliness by region and its association with the related factors. The study found that 11.7% of the surveyed adolescents felt lonely. Loneliness was particularly high in the African (13.1%) and Eastern Mediterranean regions (14.7%).
Overall, loneliness was higher among girls, those who had been bullied, and those who did not have a best friend. The association between being bullied and loneliness, in particular, was found in almost all participating countries (only Egypt and Vanuatu showed no correlation).
Kenta Igami, Part‐Time Assistant Professor of Pediatrics at Juntendo University, said, "The spread of smartphones and social media has drawn attention to loneliness amongst adolescents. Recent studies have reported increased loneliness among this age group due to the influence of COVID‐19. Similar trends can be observed regardless of a country's income level. We look forward to further research in this area."
Journal Information
Publication: Journal of Adolescent Health
Title: Adolescent Loneliness in 70 Countries Across Africa, America, and Asia: A Comparison of Prevalence and Correlates
DOI: 10.1016/j.jadohealth.2022.12.029
This article has been translated by JST with permission from The Science News Ltd. (https://sci-news.co.jp/). Unauthorized reproduction of the article and photographs is prohibited.