Obesity, the excess accumulation of body fat, is one of the causes of numerous diseases such as diabetes, hypertension, heart disease, cancer and stroke, and reduces healthy life expectancy as well as average lifespan. The number of obese people is increasing year by year due to changing diets, various stresses, irregular lifestyles and lack of exercise, which makes establishing any innovative prevention and treatment methods for obesity an urgent issue.
A research group led by Assistant Professor Kazuya Fukasawa and Professor Eiichi Hinoi of the Laboratory Pharmacology at Gifu Pharmaceutical University, in collaboration with Northwestern University of the United States of America, Kanazawa Medical University, Kanazawa University, Nagoya City University, National Rehabilitation Center for Persons with Disabilities, Tokyo Medical and Dental University and the National Institutes of Health (NIH) of the United States of America, has discovered that an amino acid transporter in the brain act as an obesity sensor. The group's research was published in JCI insight.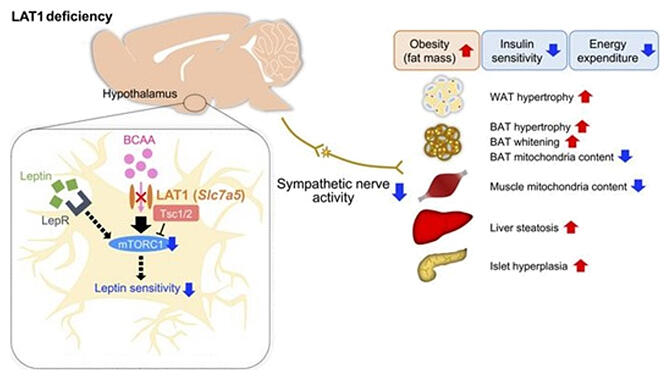 Amino acids do not only work passively as materials that synthesize protein, but also work actively as signaling molecules. The intracellular influx of amino acids via amino acid transporters is essential for the initiation of amino acid signaling. L‐type amino acid transporter 1 (LAT1) is an amino acid transporter that carries branched‐chain amino acids such as leucine and isoleucine into cells.
In an experiment using mice, the research group discovered that inactivation of the LAT1 neuronal amino acid transporter induces obesity and revealed for the first time in the world that LAT1 senses the balance of amino acid in the brain and plays an important role in controlling weight. Targeting amino acid transporters in the brain is expected to contribute to creating novel therapies for obesity and metabolic syndrome.
This article has been translated by JST with permission from The Science News Ltd. (https://sci-news.co.jp/). Unauthorized reproduction of the article and photographs is prohibited.