Amazon Web Services (AWS) has become the world's most comprehensive and widely adopted cloud service since its launch in 2006. Currently, AWS provides cloud services to millions of customers in more than 190 countries around the world and to hundreds of thousands of customers in Japan. Amazon's mission is to be "Earth's most customer‐centric company." The Science News spoke with Shig Okaya, Head of Education Business, AWS Japan to hear more.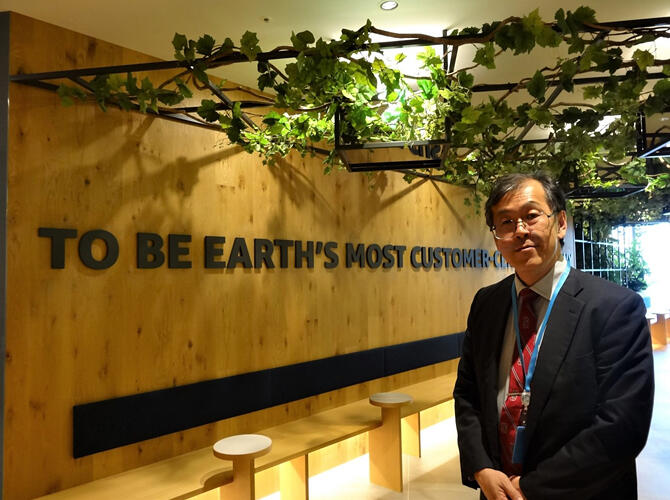 The AWS Global Infrastructure map shows that the AWS Cloud spans 99 Availability Zones (AZs) within 31 geographic regions globally, including two regions (Tokyo and Osaka) in Japan, with four and three AZs, respectively. Each AZ consists of a large number of data centers. The AWS Global Cloud Infrastructure is the most secure and reliable cloud platform used by government agencies worldwide. Well‐known companies that started by utilizing the AWS platform include Airbnb and Netflix.
In Japan, AWS is used by many customers, ranging from kindergartens to universities, technology colleges, and research and development agencies, including Mitsubishi UFJ Financial Group, the Japan Digital Agency (which supports Government Cloud), the Ministry of Education, Culture, Sports, Science and Technology (MEXT), and its Computer Based Testing system (MEXCBT).
The cloud is not just for data storage. AWS currently offers more than 200 services in the cloud such as AI, IoT, and data analytics. About 90% of its services were developed in response to customer feedback. Furthermore, the price has been reduced as many as 129 times since the service was launched in 2006. Okaya explained that AWS is chosen by users worldwide because its services and customer‐oriented business strategy have created a virtuous cycle and further increased demand.
Currently, AWS is focusing on supporting DX (digital transformation) through research. In cutting‐edge research fields, machine learning is applied to huge amounts of data for analyses. In many cases, it is difficult for researchers to use their own computers or servers to analyze data because of the lack of capacity. Therefore, AWS offers a service called "Democratization of Computing Resources," which provides computing resources required for large‐scale computation in the cloud. Even if researchers do not have the necessary resources themselves, they can use resources offered through AWS whenever they need them. Moreover, in the field of machine learning, AWS offers services that allow immediate analyses using data in a form close to no‐code or low‐code, even without the knowledge of programming languages.
There is no need to purchase and manage expensive hardware for high performance computing (HPC) or pay for its upkeep and maintenance. Because of the pay‐as‐you‐go billing system, you only pay for what you use, allowing you to concentrate on the core business of research while reducing costs and labor in the long term. In addition, the AWS Cloud is designed to be resilient to cyberattacks and disasters, such as earthquakes and power outages. While semiconductor technology and other technologies are evolving so rapidly that the hardware used quickly becomes obsolete, the AWS Cloud allows the use of cutting‐edge technologies.
Okaya emphasized that the use of the AWS Cloud is advantageous for promoting research. In research fields, Amazon is developing services such as AWS Ground Station, a pay‐as‐you‐go billing service that receives satellite data on the ground, and Amazon Braket, which offers multiple types of quantum computing devices.
Currently, efforts are underway to develop applications to be used on Fugaku, a supercomputer developed by RIKEN and Fujitsu. Such applications will be available not only on Fugaku and similar supercomputers, but also on the AWS Cloud, which anyone can access.
"Many researchers worldwide are already using AWS Cloud services for advanced research to promote open science and open data. We would like to support many researchers in Japan by offering AWS Cloud services so that they can conduct cutting‐edge research activities on par with those of researchers worldwide." Okaya said with high hopes.
(Figures and other information in the text are current as of April 2023.)
This article has been translated by JST with permission from The Science News Ltd. (https://sci-news.co.jp/). Unauthorized reproduction of the article and photographs is prohibited.