Considering the aging population of Japan, AssistMotion (AssistMotion Co., Ltd.) is developing and commercializing a human-friendly walking-assist robot 'curara', which assists the movements of the elderly and disabled and extends their healthy life expectancy. Through this technology, AssistMotion aims to create a society in which anyone can walk unassisted, even the elderly and disabled. An outline of the robot, development process, and issues related to the current state of commercialization are explained in this article.
Aimed at both rehabilitation and sports such as mountain climbing
Japan is characterized by a super-aging society and is facing serious issues, such as a rapid increase in social security costs. The proportion of elderly people continues to increase, accompanied by a shortage of human resources related to medical care and long-term care. To solve this problem, extension of a healthy life span and creating a society in which the elderly can live independently using support technology is required. AssistMotion aims to build an equal society in which each person becomes independent by supporting people with disabilities such as the elderly or those who want to prevent disabilities by using robot technology. If the vertical axis denotes the "Innovative" and "Conservative," characteristics of the design, and the horizontal axis represents the "Human" and "Mechanical" characteristics, they aim to develop their technology in the second quadrant as a human-friendly wearable robot. They hope to achieve a high level of functionality and develop a robot that is truly accepted by people (Fig. 1).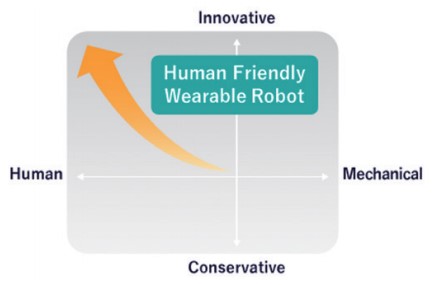 With the progression of a super-aging society, AssistMotion believe that wearable robot technology that can assist users' movements will become even more important in the future. For robot technology to be used across a wide range of fields, it is important to realize that it has to not only assist movement but also enhance its connection with humans and appeal to human sensibilities so that they will enjoy using it. To this end, they are conducting activities to enable the practical use of wearable robots with the research and development of human-friendly wearable robots (robotic wear curara) and next-generation soft actuators (vinyl chloride (PVC) gel artificial muscle) as the two mainstays of their efforts.
At present, the robotic wear curara WR-P shown in Fig. 2 is being lent out for monitoring. This robot is used to assist in walking and support functional training such as rehabilitation training in hospitals and nursing homes. To date, experiments with the robot have been conducted in many hospitals, nursing homes, and with individuals, and the product model has been developed with the help of feedback from these users. In addition, the walking support function can be widely applied, and they are considering expanding its application to various fields in the future, such as rehabilitation training, independence support, healthy life expectancy extension, universal tourism, and mountaineering sports.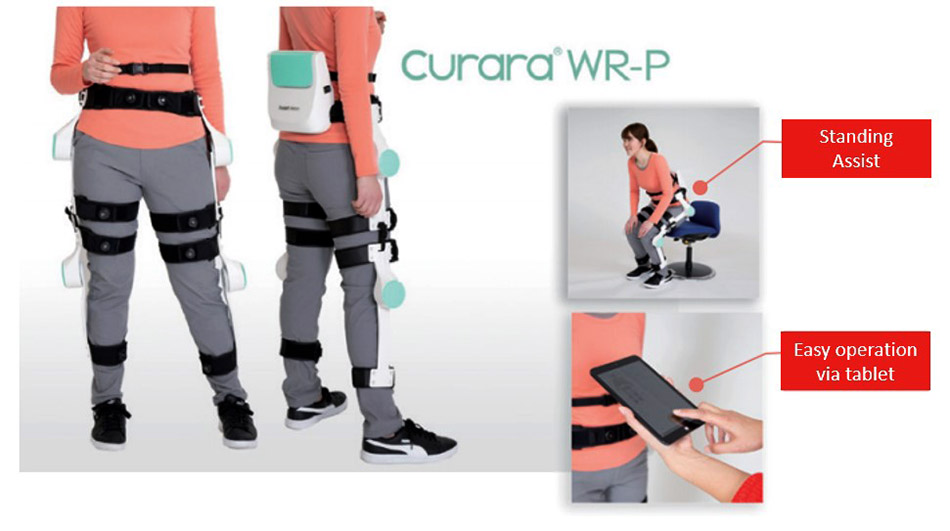 Established in 2017 as a venture company originating from Shinshu University
AssistMotion is a venture company established by Shinshu University to use the research results obtained at Shinshu University and contribute to society. Since 2008, Shinshu University has been researching and developing the living-assist robotic wear, curara®, that can be used for rehabilitation training and independent support for individuals who have difficulty walking independently, such as the elderly. The development of this technology was initiated in 2011 with the support of the A-STEP "Matching seeds with needs" program run by the Japan Science and Technology Agency (JST) as a basic method for controlling human-robot interactions.
Since then, it has been developed with support from the Shinshu University Advanced Research Group Walking Assist Cyborg Project, the Japan Agency for Medical Research and Development (AMED) Medical device development promotion research project, the Robotic Industrial Activation Project of the Tokyo Metropolitan Industrial Technology Research Institute, the AMED Robotic Nursing Device Development and Standardization Project, and the Ichimura Foundation for New Technology Development Grant. In addition, the development has been promoted with the cooperation of many companies, hospitals, and long-term care facilities, mainly in Nagano Prefecture. Curara has undergone repeated iteration and design improvements, beginning from the Model 0 prototype to the current 6th generation WR-P. In the process, AssistMotion Co., Ltd. was established with the aim of enabling its practical use.
Continuous operation for 1h using a lithium-ion battery
Curara has a total of four actuators attached to the hip and knee joints, which can assist not only in walking but also in standing, sit-to-stand movement, and stair ascent and descent. There is a box at the waist where the controller and the battery are housed, and the total mass including the actuator is 4.5kg. The linked tablet allows the robot to be operated wirelessly and the lithium-ion battery allows it to operate continuously for approximately 1h. The robot is an exoskeleton structure. Since a link mechanism is not used, the weight of the robot can be reduced. It is lightweight and assists four joints, and the feeling of restraint when worn is reduced.
These traits mean that one of curara's defining characteristics is to assist and support the natural gait of device users. To control the device, an original tuning control method developed by AssistMotion is used. By using a neural oscillator (Matsuoka model), which uses a mathematical model representative of the central pattern generator in the spinal cord, it is possible to control the robot according to the wearer's rhythm. In addition, the degree to which the movements are matched is called synchronization, and by adjusting the synchronization, the strength of assistance can be changed. Therefore, it is possible to control the joint trajectory and present an appropriate gait to the wearer.
To date, it has been found that using curara for stroke patients improves walking speed, stride length, and cadence (steps/minute) by approximately 20 to 30% compared to without assistance. In addition, the same experiment was performed on patients with spinocerebellar degeneration, and it was found that the harmonic ratio, an index representing the stability and smoothness of gait, is increased and stabilized by curara.
The issue of cost
Desired long-term care insurance coverage
While much work has been done to develop and demonstrate the effects of this advanced robotic technology, several issues remain that must be resolved to allow for commercialization in the future. Although curara is less expensive than other walking assistance robots, it still costs millions of yen. There are challenges to introducing such expensive equipment in aged care facilities, in addition to the difficulty encountered by elderly people to purchase it individually. Some municipalities have subsidy systems for introducing these devices, but the scope of these systems is limited, and are difficult to extend to the before mentioned facilities. To solve this problem, governmental subsidy systems must be developed and expanded, and long-term care insurance should be made applicable for costs associated with such robots.
PVC gel artificial muscle helps reduce costs and weight
Using their second mainstay technology, PVC gel artificial muscles, AssistMotion's aim is to make robotic wear lighter and less expensive. For robotic wear to be used by individuals, it needs to be significantly lighter and less expensive. PVC is an inexpensive material used for flooring and water pipes, and if it can be implemented in this application, it will certainly become the core technology of wearable robots. As shown in Fig. 3, the aim is to realize and commercialize robotic wear that can be used much like everyday clothing.