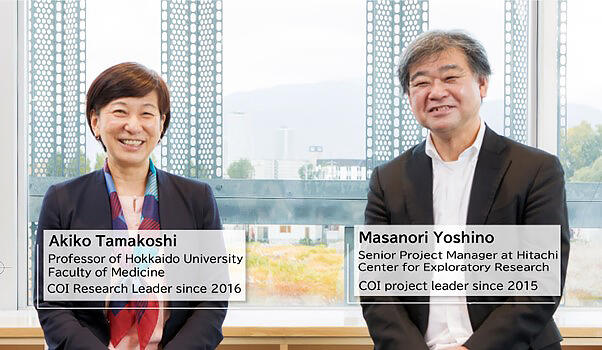 In Japan, where the birthrate is falling and the population is aging rapidly, there is a need to create a society where people can give birth and raise children with peace of mind, maintain their health in old age, and recover quickly if they fall ill. The Center of Innovation (COI) Program "Master of Food and Health" aims to realize a healthy, smiling, and happy life by means of optimal food and exercise according to each person's health condition. Universities, companies, and local governments will work together to disseminate innovations related to "living" to the world.
The University as an open social research institute: More than 50 companies and institutions participate
According to the Ministry of Health, Labor, and Welfare, the average life expectancy in Japan in 2020 reached a record high of 87.74 years for women and 81.64 years for men. The ability to live a long life in good health is an important issue for everyone, and as an individual method to achieve this many people try to lead a life that takes care of their health. Eating foods that are considered good for your health is particularly easy thing to integrate into your lifestyle. On the other hand, it cannot be said that the analysis of what foods to take and how much should be taken, depending on situation and lifestyle, is sufficiently advanced.
Hitachi Ltd. and Hokkaido University have set up the Center of Innovation (COI) Program "Master of Food and Health" base to progress on this issue (Fig. 1). They are aiming for a future where everyone can live in good health by clarifying the relationship between lifestyle and health. "Food and health have a painful image of dietary restrictions and patience, but we wanted to perform research that makes everyone happy and smile, so we set up a base," says Masanori Yoshino, Senior Project Manager at Hitachi Center for Exploratory Research.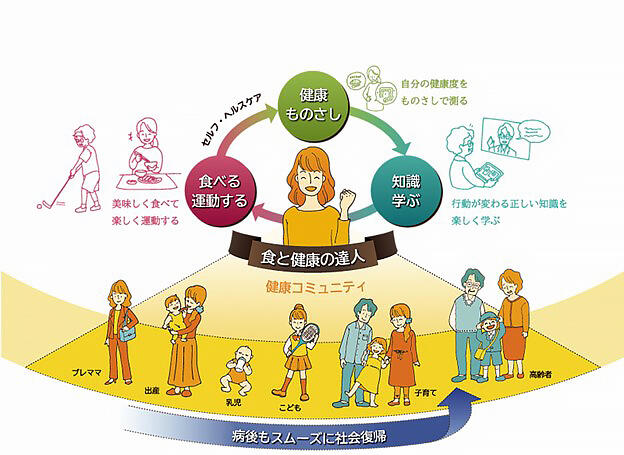 Professor Akiko Tamakoshi of the Hokkaido University Faculty of Medicine, who specializes in public health and epidemiology and is also a research leader at the center, added: "Meals are a place where invisible value is created, such as feeling the connection and comfort with the people who gather there, beyond the value from nutrition." From this perspective, they not only analyze the ingredients and intake of food scientifically but also emphasize the relationships with people and aim to create a "healthy community" where people can be happy and healthy.
In addition, this base is a large project with more than 50 companies and institutions such as Hitachi Ltd., Hokkaido University, Tsukuba University, and Kitasato University participating (Fig. 2). At the satellite base led by University of Tsukuba, participating members are researching and developing a mechanism to prevent deterioration of mobility functions such as "standing" and "walking" by means of exercise. Kitasato University is researching and developing a new system that supports health by preventing illness using Kampo medicine, which is good at detecting and dealing with illness at an early stage before one becomes ill.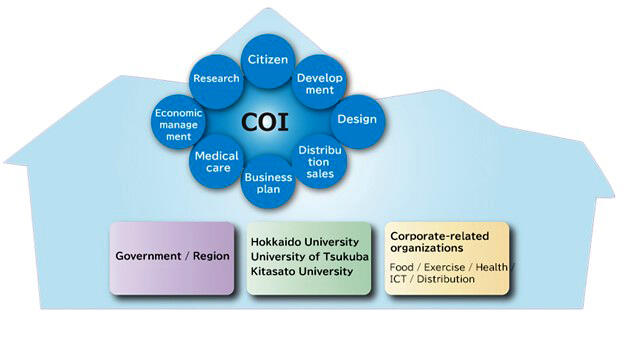 Professor Yoshino says that it is thanks to base staff that he is able to connect universities, businesses, and local governments and foster a sense of unity. Half of the staff have joined from local governments, companies, and so on, but the fact that they have grown into a functional organization by sharing roles well and fully grasping the bigger picture is linked to the results. "At its core, a university is a social research institute, is it not? That is why we want to be an open place where everyone can feel free to discuss issues that are familiar to them."
Establishing a "health ruler" with an emphasis on gut biota
Although the number of measuring devices such as smartphones and watches that can easily evaluate exercise has increased, it is still difficult to evaluate food. "The mechanics of the body are complex, and if you want to be scientifically accurate, you have to analyze small factors such as the timing of eating and who the person is eating with," explains Professor Tamakoshi. Certainly, once a person swallows food, it is difficult to observe what happens in the body and how it reacts.
Moreover, no one knows if the results of one person's body can be generalized to everyone. Considering that this depends on age and physical condition, it should be more difficult to grasp the actual situation. Therefore, Professor Tamakoshi and others are working to establish a "health ruler" that can be used as an indicator of the health status and improvement methods for individuals that differ based on the situation (Fig. 3).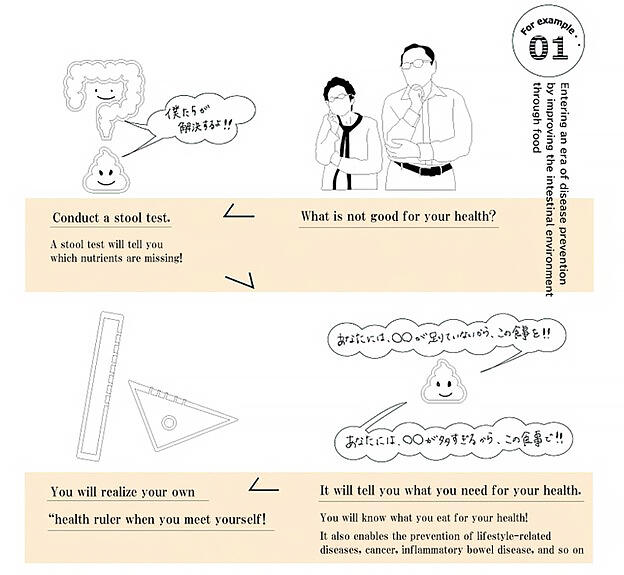 A particular emphasis is on stool analysis. By examining stool samples, they have established a method for examining substances that control the intestinal flora of a person and the composition of bacteria secreted from the intestine. Countless bacteria have settled in the intestines of people. Some of them cause illness, but they also help in digestion and prevent the colonization of pathogens from the outside. The type, composition, and balance of these intestinal bacteria are thought to affect the health of the human body, their host.
Professor Tokiyoshi Ayabe from the research team at Hokkaido University Faculty of Advanced Life Science, Associate Professor Kiminori Nakamura, and others have shown in experiments that α-defensin, an antibacterial peptide secreted by Paneth cells in the small intestine of humans and mice, not only eliminates pathogens, but also controls symbiotic intestinal bacteria. In addition, Researcher Yu Shimizu and others of Hokkaido University Faculty of Advanced Life Science revealed that the amount of α-defensin secreted decreased in older adults, which is the cause of changes in the intestinal flora with aging (Fig. 4).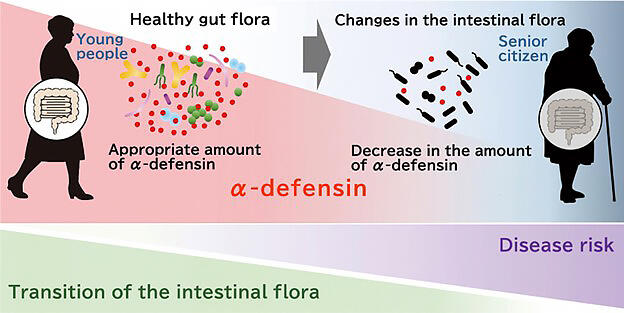 Building an environment that mimics the intestines: clarification of the effect through appropriate evaluation
This indicates that the human body secretes α-defensin in the small intestine, which may control the intestinal flora and contribute to health. Various substances that are believed to be involved in improving the intestinal environment are currently being measured, with a focus on α-defensin and their relationship with health is being confirmed. "We are also investigating whether what we have learned from research on mice in the research group is the same for humans, and whether it is related to living conditions and health," says Professor Tamakoshi.
The "health ruler" is more than just an examination of an individual's health. The researchers want to show what kind of food the person should be eating. To do this, it is necessary to examine how food and medication affect the intestinal flora. Therefore, intestinal epithelial tissue containing Paneth cells that secrete α-defensin was collected from mice to artificially create an "enteroid" that imitated the intestinal environment. The effects of foods on the intestinal flora can be quickly evaluated in the laboratory by analyzing how enteroids react with various foods and substances and whether α-defensin increases.
Until now, consumption of "probiotics" that include live bacteria such as yogurt and "prebiotics" that include dietary fibers that feed intestinal bacteria has been known to be effective for improving intestinal flora health. However, Professor Yoshino hopes that this study will lead to new eating habits. "If we can identify the ingredients and mechanisms that work directly on the intestines, we may be able to establish new biotics-based eating habits."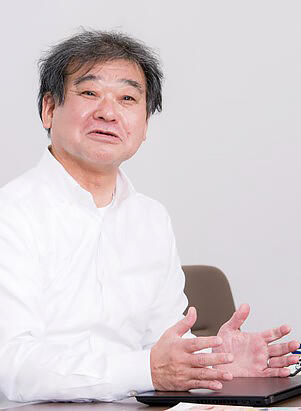 Cooperation from citizens a big achievement: proportion of low-birth-weight infants halved
Another major achievement at the base is the promotion of a health community in collaboration with Iwamizawa City, Hokkaido. Iwamizawa City aims to eliminate the low fertility rate in Japan and promote the creation of a city where children and their families can live happily. For citizens who are pregnant or raising children, the researchers set up a system that connects families with the government and specialists, involving dispatching health nurses, midwives, helpers, and so on as well as enhancing consultation desks, so that they can raise children with peace of mind (Fig. 5). These efforts by the city and its bases have been incorporated into the city's health administration guidelines and are mentioned in the Iwamizawa City Health Promotion Plan formulated in 2017.
The base and Iwamizawa City are also conducting a maternal and child health survey as part of their activities. They conduct research by receiving samples such as blood and stool from pregnant women and their children in the city, and their research is a way to return the favor to citizens. Public participation is essential for large-scale human research. Providing blood and stool samples and completing questionnaires are time-consuming for citizens. In addition, blood sampling involves volunteers from medical sites, and the survey itself currently has no clear incentive for the city and citizens.
However, Iwamizawa City has achieved amazing results during the implementation period of this project. The proportion of low-birth-weight infants weighing less than 2,500 grams at birth has almost halved from 10.4 percent in 2015 to 6.3 percent in 2019. The proportion of low-birth-weight infants in Japan has been increasing since the 1970s and is the second highest in the Organization for Economic Co-operation and Development (OECD). Under such circumstances, this case of Iwamizawa City is unique in the world, and has been highly evaluated both in Japan and overseas, such as being featured in the academic journal Nature and receiving the Platinum Award (Fig. 6).
Both Professor Yoshino and Professor Tamakoshi want to carry out sufficient analysis of the results. They both say, "The first thing is the efforts of the city and the citizens." In Iwamizawa City, the relationship with a health nurse begins when one visits the government office when one becomes pregnant or gets married. The individual will also be given a pamphlet with information on low-birth-weight infants and what one should be careful about. "We think this kind of guidance has been provided elsewhere, but we've heard that the way Iwamizawa City's health nurses interact with each other has changed through the project. When the way we deal with people changes to 'Let's do it together,' the way citizens receive it will change."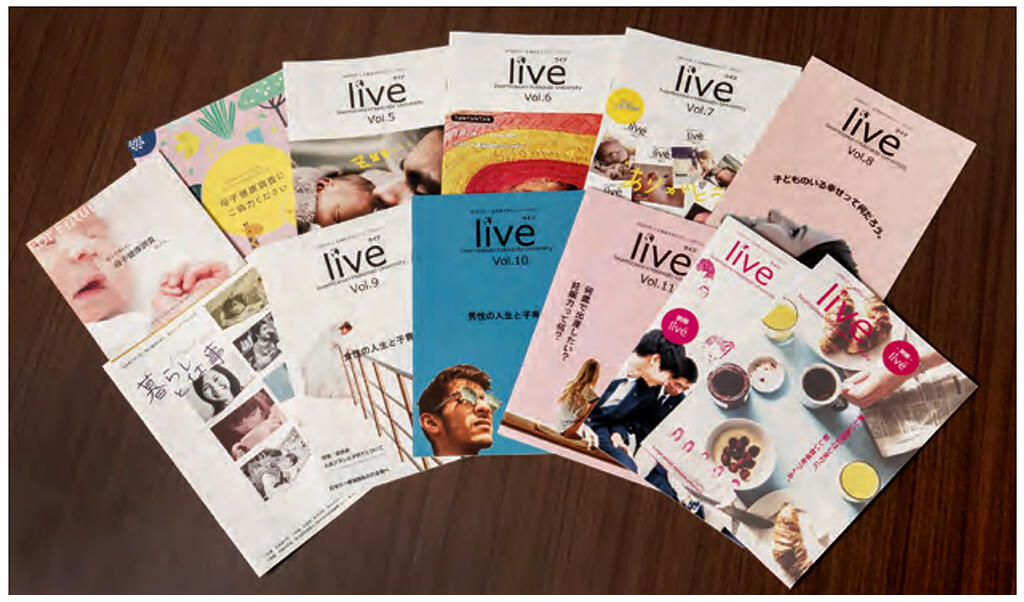 In such an atmosphere, there is a guide to the maternal and child health survey, and about 20% to 30% of pregnant women participate in the survey. In the process of the survey, a good relationship will develop with health nurses, and citizens will be able to feel free to discuss their concerns and see the city's efforts. They will also be proud of themselves doing the "altruistic" act of cooperating for the future.
It is natural to think that these positive effects will spread to people who did not participate through word of mouth and SNS, and a trend will hopefully develop. "Iwamizawa City has a population of approximately 80,000, and the number of pregnant women is approximately 400 per year. It is about the same size as one school, so if you have a good reputation for good work and effectiveness, that awareness should naturally spread," says Professor Yoshino.
Furthermore, based on the corporate experience so far, he also affirms the following: "Actually, we were aiming for this effect from the beginning. Even if you do not explain the function or performance, if the product is popular and you think it is really good, it is the same as buying it. If you make connections, you should be able to change your overall behavior for the better." In the case of Iwamizawa City, it can be seen that the citizens voluntarily participated in and improved the local government's problems. Human resources and organizations involved differ from region to region, but the fact that good effects are propagated and solutions are possible will be a great hint.
Expanding the target to younger generations: Pursuing fun and scientific analysis
The COI program is in its 10th and final year as of FY2021, but in retrospect, people-to-people connections were important, says Professor Yoshino. "Speaking of industry-government-academia collaboration, it is said that it is the result of organizations connecting, but I think that is incorrect. I think that really good results will be produced if the people who happen to be involved in it do good work, trust each other, and connect with each other." The idea of creating a community rooted in the connection between people is reflected in the operation of the bases themselves such as Iwamizawa and COI.
In October 2021, the adoption of the innovative platform program (COI-NEXT) was also decided. While making the best use of the know-how cultivated so far, the plan is to expand the target not only to pregnant women and citizens centered on the child-rearing generation but also to younger student generations. Even among young people, it is difficult for people who have no connection with illness or pregnancy to have an awareness of health as their own. It is expected that it will be difficult to promote changes in consciousness and behavior based on research results. "For students, it's best not to set the goal to "be healthy", but to act and become healthy as a result. We need to think about interesting ways to get healthy naturally," says Professor Yoshino. Professor Tamakoshi says, "Something being interesting is important, but as a researcher, we must be able to perform scientific analysis properly. First of all, we will focus on that."
In addition, Professor Yoshino talks about the business concept of creating fun content while utilizing the digital space and connecting the people who gathered there. "Challenging things can be more painful if you do them alone, but you can enjoy them by taking on challenges with others. I am excited about the next business opportunity, which will definitely be like this." Community formation led by Professor Yoshino and the science of food and health led by Professor Tamakoshi will be a solid guide to a happy life.