In Japan, when a large-scale natural disaster such as the Great East Japan Earthquake occurs, recovery and reconstruction projects led by the government are conducted; however, since disaster prevention is the highest priority, it is difficult for residents' requests to be fulfilled. Therefore, there are many cases where the local community is divided. Hence, Yukihiro Shimatani, Representative Director of Kyushu Open University, is working on a plan for creating sustainable villages by taking responsibility of the region and utilizing the resources unique to it with the help of small hydroelectric power generation.
Utilizing the site of an elementary school that faced destruction: A project set in motion by the support received through youth migration
Asakura, Fukuoka Prefecture, faced severe destruction due to heavy rains in northern Kyushu in 2017. Four years after the disaster, it is still being reconstructed. The most severe destruction occurred in Masue District in the river basin of the Akatani River, a tributary of the Chikugo River (Fig. 1). Here, in parallel with the restoration work of rivers, roads, agricultural land, etc., a project has been initiated to utilize the site of the Masue Elementary School, which was abandoned due to the disaster, as a symbol of reconstruction. The site of the elementary school will be revived as a place that will serve as a center of the community for the residents, and a small hydroelectric generator for self-consumption will be installed at the same time.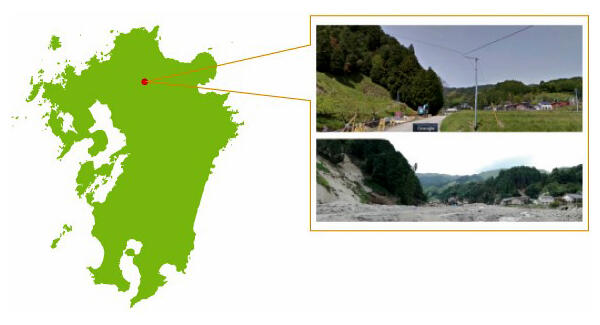 The elementary school was flooded up to the second floor following heavy rains resulting in a complete demolition being planned. However, the residents said, "We want to restore the elementary school, which is the center of the community, as a place to hand down stories about disasters, and create a space where children and local people can become familiar with water." After negotiations with the city representatives, in July 2021, it was decided that the school will not be demolished. President Tomomi Murakawa of River Village, a company which has supported the reconstruction of Masue District by helping to install micro hydro power systems through RISTEX's "Development of a method for forming a subject for sustainable village development during disaster recovery using small hydropower energy," says with deep emotion, "I feel that the residents are always thinking about the future of the region and gradually placing community development back into their own hands."
In recent years, damage due to heavy rain caused by abnormal weather has been increasing in Japan. It has been pointed out that disaster prevention is the highest priority in government-led disaster recovery, and a long-term vision in relation to community development is lacking. Kyushu Open University Representative Director Yukihiro Shimatani, who is the project's Principal Investigator, says "The larger the disaster, the more the government will be overwhelmed by recovery efforts. Naturally, this means that there is no scope for meeting the needs of the residents, and the restoration will proceed from the top down without input from residents."
Moreover, in the vertically divided administration, projects such as riverbank protection work, road maintenance, and residential land development are progressing simultaneously, and residents do not have any clarity or guidance on how they could rebuild their lives. In the meantime, the enthusiasm for reconstruction will diminish, and areas, especially those suffering from aging and depopulation, will become increasingly smaller. Director Shimatani has discussed the issue of how to form regional stakeholders during reconstruction over the course of many years. At the same time, RISTEX's "SOLVE for SDGs: Scenario Creation, Solution Creation" Program was launched in 2019 with the aim of finding solutions to these regional issues, and a decision was made to apply to the program (Fig. 2).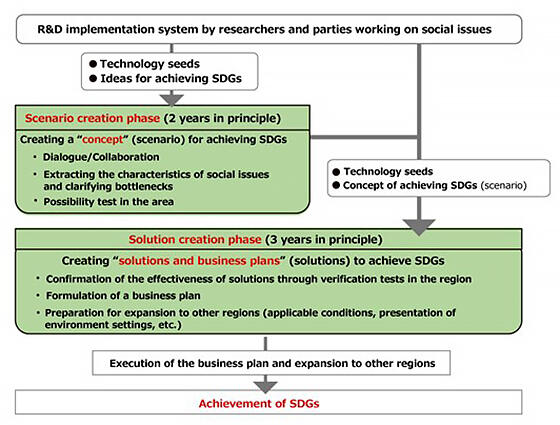 Director Shimatani focuses on the introduction of renewable energy using local water resources as a trump card for stakeholder formation. Director Shimatani, who specializes in river engineering, is, so to speak, a hydraulic expert and says "There is a lot of water in Japan, and it is abundant in the mountains. The aim is to generate electricity in the region by installing a small hydroelectric power plant using the region's water resources. By continuing discussions on this, the residents will be able to set up an organization in the area and regain enthusiasm regarding reconstruction. That was our hypothesis." (Fig. 3).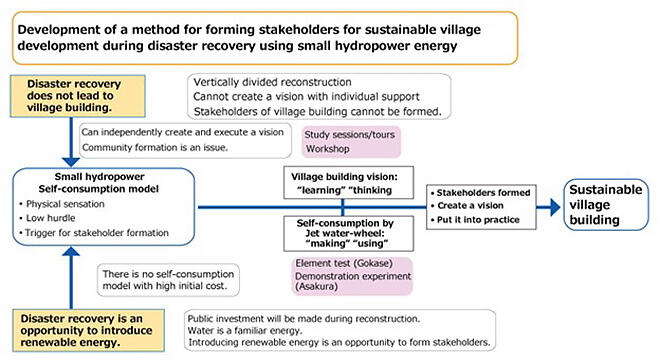 Director Shimatani began community development utilizing small hydroelectric power generation in the wake of RISTEX's "Development of structure of industrial creation and promoting returning to the countryside with full participation in hilly and mountainous areas" project that started in 2010. At that time, the theme was not disaster recovery, but community development to support I-turns and U-turns (Movement back to their hometowns, or to another countryside area) for young people in Gokase Town, Miyazaki Prefecture (Fig. 4). President Murakawa, who was a project staff member at the time, recalls "In order for local residents to work on hydroelectric power generation, not only hydroelectric power generation technology but also various social technologies such as fund raising, organization building, promotion of understanding in the region, and knowledge of law are required. Nevertheless, I found that these aspects were missing entirely."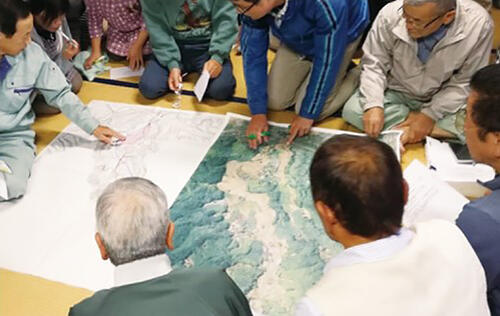 River Village was born as a company that provides total support. In addition to being positioned as one of the project outcomes, River Village has energetically supported regional development centered on the Kyushu region, with small hydropower as the starting point.
Leaving behind a place with sincerity: Concrete versions of experts and ideas
The residents of Masue District, which faced severe destruction due to heavy rain, are believed to have consulted with Director Shimatani asking "Can't we encourage the Masue community by adopting small hydropower ?" After the disaster, many residents moved to other areas and out of the city, and the number of households decreased from 225 before the disaster to 83 immediately after the disaster. In the three villages near the Masue Elementary School, where the destruction was particularly severe, even two years after the disaster (as of 2019), no households returned. Amid the extensive restoration work, areas where people lost their motivation also lost hope. Residents experienced a sense of crisis in such a situation.
However, the amount of water in Masue District is less in normal times, and it was difficult to generate hydroelectric power on a business scale as done by River Village so far. Therefore, Director Shimatani decided to aim for the introduction, which would also serve as a demonstration, of smaller self-consumed hydroelectric power generation that had been under development for some time. The project started in October 2008. Director Shimatani is in charge of technology development and President Murakawa drums up support from local actors.
The first task undertaken by President Murakawa and her colleagues was interviewing the residents. They listened to the residents as they spoke about their lives before and after the disaster, their current lives, and their expectations for the future of Masue. The initial plan was for a collective workshop for all residents. However, it was difficult for a large number of people to gather due to COVID-19; therefore, Murakawa and her colleagues conducted individual interviews with about 20 people, mainly those in their 60s, who were relatively young in the context of the regional population, including those who were evacuated from the ward.
The interviews revealed that the elementary school, which was a community hub, is a place that residents are very fond of (Fig. 5). Its history dates back to more than 140 years, and various events such as festivals and athletic meets have been held there. "This elementary school served as a shelter for 30 residents and children during the heavy rains. They spent the night there and remained there until they were rescued by a helicopter the next day. Some people asked me to save the building that protected them and to not destroy it," says President Murakawa.

An investigation was started by the core members among the residents and President Murakawa and others to determine if the site of the elementary school could be used. With the support of Kyushu University teachers and students, they held a meeting once a month to deepen the understanding of small hydropower generation and regional reconstruction, and to identify issues and actions to be taken when it was introduced. It is said that the residents' remarks have become positive since the items and specific issues to be addressed were identified.
Most of the residents are older adults. It seemed that the residents were tired of the reconstruction project, which had involved intermittent action from the government, without any hope of rebuilding their lives. In addition, they did not have the means to convey to the government the idea of community revitalization centered on the elementary school, which they had in mind. "Experts from Kyushu University and River Village helped them create a picture that everyone could visualize and laid the groundwork for discussions within the community and with the government," explains President Murakawa.
Currently, the introduction of small hydropower itself has been temporarily suspended due to the scheduling of restoration work, but residents are now discussing their own vision of the region in more detail. President Murakawa also feels that water was the trigger for the development of positive community development. "The areas closer to flood damage have a higher potential for hydroelectric power generation. The project is still ongoing, but we are seeing the possibility of regional reconstruction with small hydropower as the starting point."
Jet driven waterwheel created with a 3D printer to provide power for individual households
The small hydroelectric generator planned to be introduced is a 3 kW self-consumption type. For single-person households that conserve electricity, it is possible to compensate for the necessary amount of electricity with this small hydroelectric power generator alone throughout the year. "There are many small rivers in Japan, not just Masue. If we can generate electricity even in such places, we will be able to generate small hydroelectric power in many areas." Director Shimatani added about self-consumption type generators. By choosing between the power sale and self-consumption types according to the scale and residents' wishes, flexibility is achieved in regional development. There is enthusiasm to establish a self-consumption model of electric power, which is common overseas, in Japan as well.
However, most of the small hydroelectric generators are made by overseas companies, their introduction cost is high, and heavy machinery is required for installation. Therefore, Director Shimatani has developed a lightweight and simple structure "Jet turbine," which can be created with a 3D printer so that residents can easily create and install it (Fig. 6). It is rotated by water flow from a nozzle that is similar to a sprinkler. Currently, the Jet turbine is in the demonstration experiment stage in Gokase Town, Miyazaki Prefecture, which was where the previous projected was implemented (Fig. 7).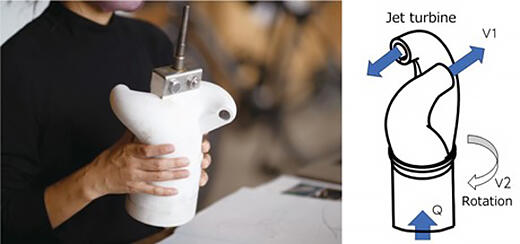 Next to the 500-watt generator installed earlier, a workshop was built with help from local residents, and the electricity for the air conditioner and refrigerator is supplied by private power generation. "The locals also helped with civil engineering work to build the workshop and install the generator. Everyone is very interested in small hydropower," says Director Shimatani. In Gokase Town there are plans to install a device to dry dried fruits in the workshop and utilize it for manufacturing local products. It was added that the generator itself is to be introduced in Masue District after being fine-tuned through a demonstration experiment.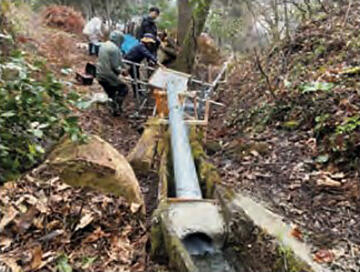 A combination of "making" and "using" aims beyond the formation of stakeholders
This project, which overlapped with the COVID-19 pandemic, has been implemented in a situation wherein President Murakawa and others struggled to meet people in the area and it was difficult for local residents to gather. It was reported that they could only meet the residents individually. "Since different people have different feelings and individual preferences for reconstruction, it cannot be said that the stakeholders have been established in the region," explains President Murakawa. In terms of future activities, they would like to hold a general meeting in Masue District from February to March 2022 to conduct discussions that will lead to consensus building among the residents.
The goal beyond the formation of stakeholders is to create a sustainable community that combines "making" and "using." Humans have been producing and utilizing energy independently since long ago; however, with the development of science, electricity is produced at power plants and delivered to each household by electric wires, which means that "making" and "using" have been separated. By introducing self-consumed small hydroelectric power generation in the reconstruction area, the residents will use water, which is a local resource, to generate electricity independently and use it by transforming it based on their needs. Further, if it breaks, they can fix it themselves and continue to use it.
"For those who are weakened by disasters and reconstruction, the act of creating something again with their own hands will lead to self-confidence and hope," says President Murakawa. She also talks about her future vision, saying that through these efforts, the project will clarify scenarios that will lead to sustainable community development, and in the next solution creation phase, they would like to extend it to other regions.
Although vitality is being lost due to top-down concrete-based land development, Director Shimatani's belief that the region has always had the power to 'create', and exhibits trust and expectations for the region. "I believe that the region has the power to move toward the future. If a proactive group is formed in the area, they will also become stakeholders of reconstruction. Only in areas where people have a strong desire to protect their community can disasters be navigated," Director Shimatani says enthusiastically.
How can we think about the future of the region on our own, and how can experts support it? There are many unique types of expertise that have not been clearly stated in building relationships with the community. The challenge taken on by Director Shimatani and President Murakawa is expected to provide valuable and thought-provoking lessons for experts. With the help of these lessons and their own expertise, they can successfully help create a sustainable society.