The COVID-19 pandemic has exposed a range of problems that are too complex to be solved by any single country alone. In response, the Strategic International Collaborative Research Program (SICORP) launched Digital Science for Post-COVID-19 Society call for proposals through collaboration between Japan and the United States, aiming to resolve these issues by employing digital technology. Dr. Kazuo Iwano, Specially Appointed Professor at Tokyo Institute of Technology and Program Officer at the Japan Science and Technology Agency, was asked about the future envisioned beyond overcoming the threats to humanity.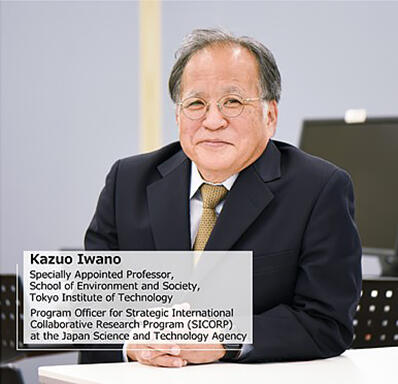 A broad range of perspectives is required for technological development in non-medical fields
While the world faces a variety of issues, the rapid spread of COVID-19 is particularly serious. In addition to problems directly connected to infectious diseases in the medical field, problems have become apparent in areas such as crisis management, protecting the elderly in an aging society, and transportation infrastructure, which at first seem unrelated. Issues of long-standing concern have all been brought to a head at once owing to COVID-19. In the future, even if methods for COVID-19 prevention and treatment are successful, the global situation is unlikely to improve if the underlying issues cannot be solved.
In the modern world where people can move freely across borders it is impossible for a single country to deal with these complex challenges on its own. For this reason, common issues at various levels, such as the country, region, and organizational levels, have been identified and collaborative initiatives aimed at resolving them are being launched. SICORP's Japan-U.S. joint program Digital Science for Post-COVID-19 Society has also emerged among these initiatives.
After the spread of COVID-19, many programs have shifted toward focusing on health care support. By contrast, SICORP draws on digital science techniques such as data analysis, statistics, and scientific verification from the non-medical fields with the aim of developing technologies for a new society. Therefore, researchers are required to not only produce scientific results but also have broad perspectives on their effects on policy and economics as well as their acceptability to the general public based on humanistic and sociological insights, such as through psychology and behavioral economics.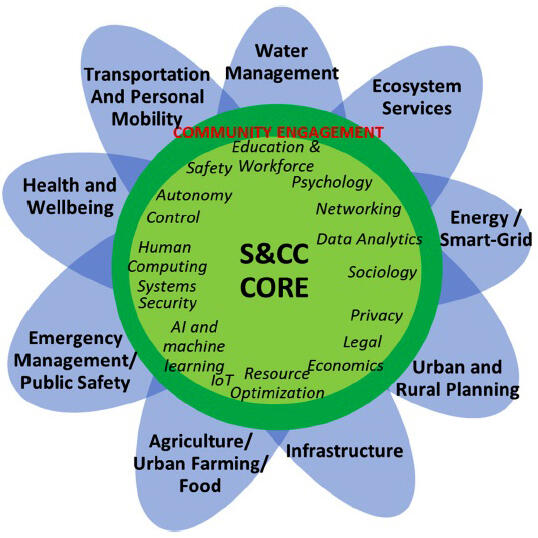 JST operates the Japanese side of the program, while the U.S. side is managed by the National Science Foundation (NSF). NSF has supported research in a wide range of scientific and engineering fields, excluding the medical field, with many original research projects that have made a significant impact worldwide. Prof. Iwano of Tokyo Institute of Technology, who serves as a Program Officer at the Japan Science and Technology Agency, has considerable faith in the NSF's research and development capabilities. He explains their initiatives, saying that "In the informatics research, for example, in 2005 NSF launched a world-leading initiative called Cyber-Physical Systems (CPS), which integrates real space and cyberspace, and they were one of the first to launch a program to support this kind of research."

NSF will support joint research using a framework known as the Smart and Connected Communities (S&CC) program. The program aims to assist researchers in identifying and clarifying the problems facing their communities and working with their communities and stakeholders to address them. S&CC aims to contribute to the resolution of various social issues through collaboration with communities in core research areas (Fig. 1). "Researchers from both Japan and the U.S. conduct research on an equal partnership basis. This means that Japanese researchers will also become keenly aware of the needs of the local community. This will naturally lead to change in their research attitudes," says Prof. Iwano.
Comprehensive research and responding to changing social demands involving local communities
With regard to setting public call themes, Prof. Iwano recalls that he held discussions with the NSF since before COVID-19 became a big issue. In particular, in addition to countermeasures against infectious diseases, keywords such as agriculture, aging society, heat islands, and mobility were used, and pilot studies were carried out. Because the COVID-19 pandemic started soon after, the focus was necessarily narrowed down to infectious diseases. However, since non-medical fields were targeted in the call, the 25 applications that came in were diverse in nature, and the 4 projects that were selected covered research themes that were closely aligned with the original call candidate themes.
In selecting projects for funding, two perspectives were given special consideration. The first is "integrative research." It is important to have originality when considering what kinds of viewpoint to integrate and how to realize a better society. Specifically, it is important to consider whether the issues and hypotheses of proposed technology and social science research are original and innovative, whether the research proposals provide new knowledge, and whether the research considers the social impact generated by the research results. "In this sense, we don't just want to improve our technology, but also integrate research in the humanities and sociology in terms of the social applications of technology. There are many challenges such as what policies to formulate for social impact as well as how to demonstrate their effectiveness and broaden our understanding," he says.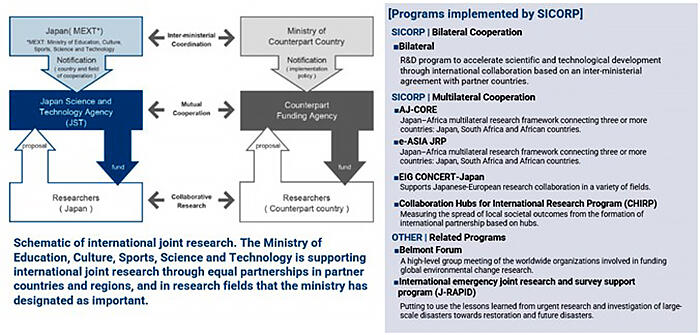 Second, there is community engagement, which is about how research teams and community stakeholders work together to promote research. When considering the social impact of science and technology, it is essential to have discussions with people at the center of the issues addressed, such as local governments and people working with facilities for the elderly. It is difficult to cooperate with local communities during the research period unless you have a concrete image of who those stakeholders are already at the conceptual stage. Reflecting on this, Prof. Iwano says "This is something that has not been considered much in Japan until now, so we sought to understand how far ahead they were looking at the time of the evaluation."
In addition, the evaluators, from industry, government, and academia in Japan and the United States, carefully examined the proposals from various perspectives, such as whether there are clear steps on how the research and envisioned results will have a relevant impact for future society, and whether researchers in Japan and the United States can conduct complementary research on an equal basis. "I do not believe that all issues will be resolved in a short support period of just three and a half years. However, as the technology and values demanded by society constantly change, it is important to create a system in which issues are identified and solutions found while responding to the situation," says Prof. Iwano.
Remarkable advances in information technology: The role of experts becomes increasingly important
While we should be pleased that such international research has gotten off to a good start, it has been pointed out that Japan's international influence in the world is decreasing. "International research is becoming increasingly important in the world, but the fact is that funding for supporting international research in Japan is surprisingly scarce," Prof. Iwano warns. In fact, according to the "Benchmarking Scientific Research 2021" published by the Science, Technology and Science Policy Research Institute (NISTEP) of the Ministry of Education, Culture, Sports, Science and Technology, Japan ranked fourth among major research peers such as the United States in terms of international co-authored top 10% papers between 1997 and 1999, but then fell to fifth between 2007 and 2009, and then tenth place in 2017 to 2019 (Fig. 2).
Prof. Iwano points out that there is a large number of people in Japan who shy away from IT, systems and related areas, but that this is also the fault of developers. "We have developed systems that can be used without being familiar with IT, so you do not need to understand information technology in depth, only the developers need to," he says. On the other hand, firms that have long worked to streamline and optimize their operations, particularly in the United States, in recognition of the importance of information technology, are able to standardize their business processes and reform organizational structures, enabling them to significantly improve efficiency and to produce valuable data.
In recent years, advances in the information technology field have been remarkable, and words such as DX, AI, and big data pop up on a daily basis, leading to dramatic changes in people's lifestyles. Of course, there is a big gap between countries and companies that fully grasp the potential of digital science and those that do not. Some are creating new value and achieving growth, while others are using it only as a tool and are not making full use of it. Japan, unfortunately, has more of the latter.
Science and technology have become increasingly sophisticated and specialized, and they are often understood only by experts. Given this situation, the role that experts have to play in making the right choices and continuing to support growth will become increasingly important for the vast majority who are non-experts. "If experts can discuss the potential and implications of current technology for society, society will be more likely to choose a better direction," Prof. Iwano emphasizes.
Building relationships of trust with society with an emphasis on public interests and a sense of responsibility
At the same time, Prof. Iwano believes that experts have a duty to earn the trust of society and take their role seriously. He points out that, "If a person gets a serious illness, they will entrust their life to a reliable doctor."
"The researchers, as experts, must be aware that society has entrusted them with its future." Researchers are required to think about not only their own interests but also "public interests," which promises a prosperous future for society as a whole.
He points out that in order to realize such a society, JST and other national organizations are deliberately taking a key role in shaping new trends, while having to take the lead with regard to international trends. In order to achieve this, it is necessary to find ways to bring together human resources, funding, and knowledge from around the world.
The understanding of the people is also important for promoting international joint research. "Not only experts but also the general public needs to understand why we conduct these types of research. We hope that this program will further deepen the relationship between the media and researchers, and that the media will allow the public to see not only the results of research, but the very process which produces those results," he says. In the era of the new normal, the aim is to build a strong society that will not be put at risk by unknown threats that may arise in the future. The challenge of supporting this new direction has now begun.