With the keywords of 'Measure,' 'Recognize' and 'Actuate,' the 'Center of Innovation for creation of a society with self-help and mutual-assistance through daily unobstructive sensing and health monitoring' established by Tohoku University aims to realize a society where people can live healthy lives and are motivated every day when they get older. The center showed a sure way to achieve a sustainable society where 'self-help' and 'mutual-assistance' can coexist, through implementing various sensors in society under academia-industrial-governmental collaborations. "Self-help" indicates that people understand their health condition and accurately improve their lifestyle, whereas "mutual-assistance" means that people are appropriately cared for by their families and members of the community.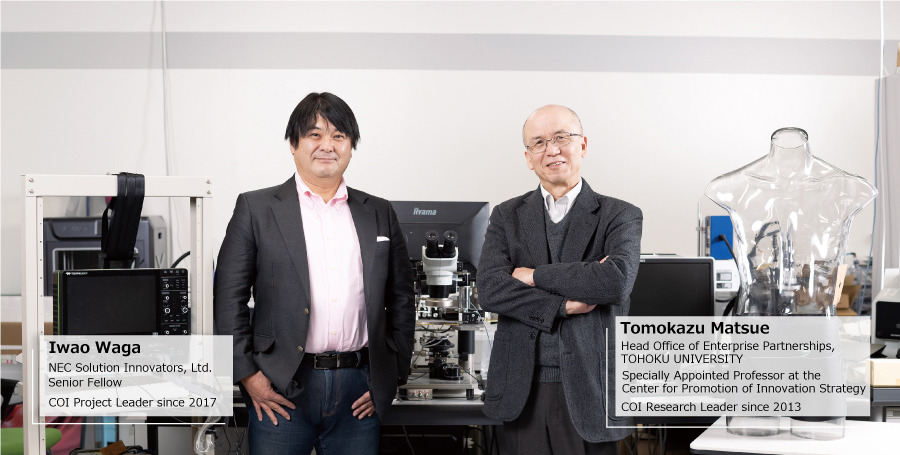 Establishment of a foundation for an academic-industrial partnership
Many people may share a desire to live a healthy and purposeful life. We, however, have entered the 100-year life society, and it is necessary for each one of us to make efforts to maintain good health in order to live a healthy life when we get older. The trick for maintaining such a practice for longer is to stay the way we are without sacrificing our daily life too much. With the goal of developing a technology that enables the detection of even a small physical issue in people's daily life as well as improving their lifestyle, Tohoku University has continued research by establishing the 'Center of Innovation for creation of a society with self-help and mutual-assistance through daily unobstructive sensing and health monitoring.'
The center is a large organization consisting of Tohoku University, as the core entity, and satellite centers of Waseda University and Tohoku Gakuin University as well as over twenty companies. "It took time for the participants to open up, but we created an environment where new things were born by establishing a place where groups involved in attractive research met," recalls Iwao Waga, Senior Fellow of NEC Solution Innovators, Ltd. With Tohoku University as the platform, an academia-industrial partnership style was established in 2019 by proposing the Business to University to Business (BUB) collaboration model, which forms an innovation ecosystem. Its membership includes a number of business entities.
Contributing to lowering blood pressure of the entire town
The Na+K+ scan is a sensor developed out of the collaborative research, which enables the measurement of a person's urinary sodium potassium ratio (Na/K ratio), a high blood pressure indicator, quite easily. (Fig. 1) It is thought that a major cause of high blood pressure is excessive intake of salts. For Japanese people, however, lack of potassium intake, which removes salts from the body to control blood pressure, is also assumed to be a cause. Lower urinary Na/K rate indicates a lower salt intake and a higher intake of potassium, which vegetables are high in. However, to date in order to measure the ratio, it has been necessary to collect a 24-hour urine sample. The Na+K+ scan was era defining in that such a time-consuming hurdle was removed, and the data can also be used for health guidance.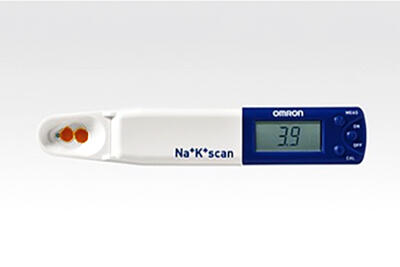 Tome City in Miyagi Prefecture cooperated in the demonstrative experiment of the sensor. Tome City, where the ratio of citizens with high blood pressure was among the highest in the Prefecture, has measured its citizen's urinary Na/K ratio at specific medical checkups since 2017. Analysis of the data of approx. 11,000 citizens in total measured for three consecutive years indicated a decrease in their urinary Na/K ratio and blood pressure. "Tome City participated in the experiment because a group led by Professor Atsushi Hozawa of Tohoku University has long taken the lead to provide health guidance to its citizens. There are no other cities in the world where the entire city showed a decrease in blood pressure," says Professor Tomokazu Matsue of the Head Office of Enterprise Partnerships Tohoku University, emphasizing the significance of the achievement.
Waga also recalls when he visited a health checkup site and says: "Public health nurses enthusiastically explained the relationship between the Na/K ratio and high blood pressure to me. I was surprised that the Na/K ratio was well understood by the citizens and that they knew their own ratios." Recipes for improving dietary life, made in cooperation with businesses, are also open to citizens, and a system has been set up so that anybody is able to decrease his/her Na/K ratio easily. Today, the urinary Na/K ratio is measured at 10 sites in Japan and the measurement will be employed by more local autonomous bodies.
Tricks to continue healthy habits
The 'lifestyle improvement service experience' is a kind of daily health screening realized using a combination of various sensors. (Fig. 2) According to the center, staying at an accommodation equipped with sensors for about one month will improve your daily life effortlessly. Diet, workout volume and sleeping hours are monitored and measured, and the results are given to the user together with professional advice, such as from doctors. "This is what we wanted to realize most at the center. This can be said to be a business model that is fitted to modern society," Wada says, smiling.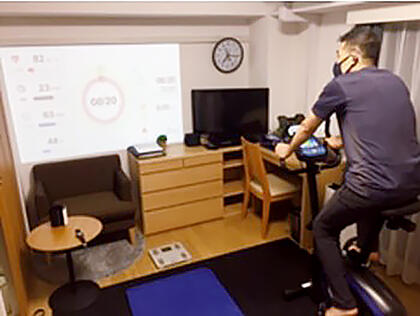 Besides this, there is a 'magic mirror' that tells you your physical condition just by standing in front of it. It uses a video camera to measure your blood circulation on the skin remotely in a non-contact manner. The result of the analysis using a built-in computer is shown on a mirror-type display, so you can intuitively understand your physical condition. (Fig. 3) A tablet-type 'ingestible thermometer' that generates electricity using gastric acid is a safe and cost-effective way of measuring one's deep body temperature, which is an indicator indispensable for measuring health conditions. (Fig. 4) This is true 'unobstructive sensing' and anybody can continue healthy habits using it easily.
In the high-economic growth period a superb sensor could be developed by a company collaborating with one researcher. Nowadays, however, whole services must be produced utilizing technologies such as sensors. "Practice-oriented Research and Education" is a motto of Tohoku University. There is a growing number of researchers who start their own business, hoping that their research will be utilized in society. At the same time, they have grown to clearly understand what problems are, and the number of papers posted has also been growing" says Professor Matsue smilingly. The COI's activities are linked with the philosophy of Tohoku University and the revitalization of the University as well.
Excellent support for young researchers
Professor Matsue reveals that one of the aims of participating in the COI was to reform the University. "There has been a trend that young Japanese researchers' efforts are evaluated lower internationally, but this does not mean they are inferior to their counterparts in the rest of the world. As long as they have the environment, young researchers can shine. I want to build such an environment through the COI." A 'young researchers fund' was established in the Center so that young researchers can work and do research independently. This is a structure where young researchers pursue their projects as research leaders.
Collaboration that goes beyond the boundaries between the young researcher-based university and business entities, between science courses and humanity courses, and between experienced researchers and young researchers, has spread out to other sites generating a big wave involving other members who did not take part in establishing the COI associations or in the COI. The initiatives that the Center aims for will be taken up mainly by the Designing Future Health Initiative, which was established in 2021. It is anticipated that young researchers will use these places of academia-industrial collaboration, developed by Waga and Professor Matsue, and that their activities will change society.