The 'Center of Kansei-Oriented Digital Fabrication' of Keio University aims to shift society from conventional mass-production/mass-consumption to individual one-off production, effectively utilizing digital fabrication technology. In order to offer the optimum product best suited to individual preferences and requirements, the Center has been working to realize new designs and manufacturing methods.
By forming a research site that includes not only specialists in science, engineering, and sociology, but also in art and design, the center will connect "technology" and "society" and contribute to the realization of a sustainable global society.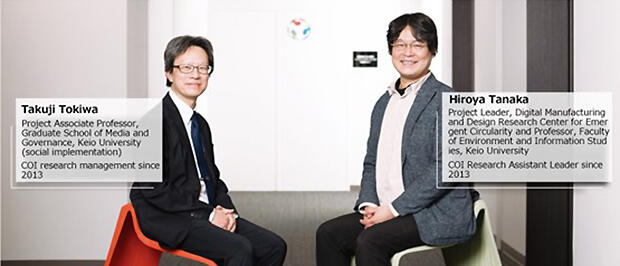 'Touching is believing'
Economic activities based on mass-production and mass-consumption have caused various problems including garbage management and the depletion of resources. With the goal of changing this societal trend Keio University established the 'Center of Kansei-Oriented Digital Fabrication.' "Back in 2013, 3D printers had just emerged in society. We thought that products best suited to the requirements of individuals can be offered in a more cost effective and swift manner, if several theories are linked to form the foundation and its possibilities can be drawn into society," says Professor Hiroya Tanaka, Faculty of Environment and Information Studies, Keio University. (Fig. 1)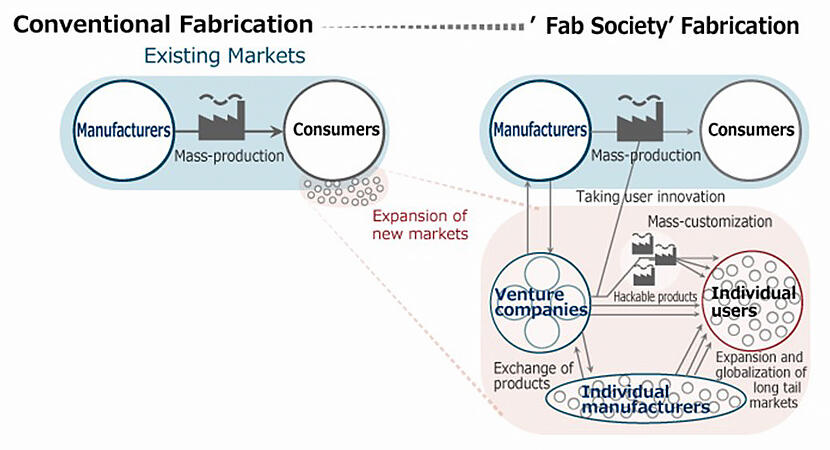 This research has been conducted in collaboration with various institutions, including Keio University, which has strengths in digital infrastructure, Kwansei Gakuin University, which is engaged in Kansei engineering research, and Yamagata University, which has strengths in materials research. The definition of Kansei Engineering is broad, but while the "Center of KANSEI Innovation Nurturing Mental Welfare" in Vision 2 took a neuroscience approach, the "Consortium for the Global Society with Planetary Fabbing" focused on the sense of touch as its main research target from 2019 to 2022. "Tactile sensation is one of the most difficult of the five senses to verbalize. It is very difficult to tell how hard or soft something should be. We thought, 'Touching is believing,' and created a unit grid of the same material with different hardness (Fig. 2). It is an 'in-between language' that connects sensitivity and physical properties," says Dr. Takuji Tokiwa, Associate Professor at Keio University's Graduate School of Media and Governance.

The pursuit of products customized to individual users
'Medical Insoles' are one of the results of this science, realized by distributing various feelings of touch into one product using a 3D printer. They are like a shoe insole that is customized to each patient, and are effective for easing pains on legs, hips and knees. Conventionally, insoles were manufactured by prosthetists, and made by adhering combination of soft and hard urethane material in a shoe using glue, while adjusting for patients' foot comfort.
However, considering the accelerating ageing of society, more efficient and highly value-added manufacturing methods will be needed. The group under Professor Tanaka developed a medical insole in collaboration with participating companies using a combination of the Kansei Value Index Technology and a 3D printer. The insole was manufactured in a way that softness and hardness can be altered freely just by modifying the structure of a material so that it can be placed at any location in a shoe. This is rare in the world and the group's work was highly praised at the World Haptics conference 2021.
The group also developed a work chair incorporating elements of a balance ball, in collaboration with a furniture company. (Fig. 3) The chair can be designed suited to the profile of each user, including the height of the seating face and the backrest. The chair is made of biopolyethylene derived from sugar cane. Its texture is scientifically evaluated from the viewpoint of Kansei Engineering.
Even now, the 3D printers are being applied continuously to automobiles, houses and other new manufacturing fields. Professor Tanaka points out that it is a result of establishing a new foundation by linking Kansei Engineering and a digital manufacturing technology directly. "Collecting researchers from multi-disciplinary fields into this COI resulted in the formation of groundwork in various areas. It not only generated new research fields, but it also created a new job function like 'a nurse capable of manipulating a 3D printer,'" continues Professor Tanaka. In his lab, students start their own business almost every year and already 10 venture companies have been founded.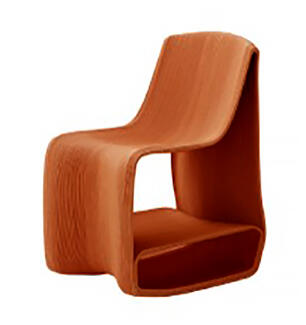 Manufactures winners' podium for the Tokyo Olympic Games
The way their research was done in collaboration with researchers beyond the boundaries of universities and companies was positively evaluated from a design perspective and they won the Good Design Award in 2014. An unexpected order came, while working on the COI research. This was manufacturing and designing winners' podiums for the Tokyo Olympic/Paralympic Games. "The offer came to me unexpectedly, and I was very surprised," says Professor Tanaka retrospectively.
What the Organizing Committee wanted from him was to think together with the committee on how to manufacture winners' podiums using empty detergent packages collected from all over Japan. At the time, while individual one-off production was indeed being realized, it did not seem to have led to getting rid of the mass-consumption and mass-disposal practices that had been the initial goal, according to Professor Tanaka. "When we got the offer, we realized that producing value from waste is where our research can be applied to," he continued.
So, the research group under Professor Tanaka investigated how to improve the raw materials used for empty detergent packages collected from retail shops, shopping centers and elementary schools throughout Japan and elaborated a plan to manufacture 98 podiums in total using 3D printers. Before, the research group mainly used resin dedicated for 3D printers, but it accelerated research and development to use recycled plastics in lieu of the special resin. They managed to deliver the finished products by the designated date. Moreover, all podiums were given an ID tag as a record of the competition that the podium was used for and who stood on them.
After the Olympic Games, each podium was given away to elementary and junior high schools as well as local autonomous bodies nationwide, with a 'certification tag' showing the name of the competition the podium was used for. "We were successful in demonstrating the concept of 'Leap Cycle', in which waste is returned to society by changing it into products with added value that can be used longer than the original product, rather than just recycling. Our activity was taken up as a topic by many TV stations and newspapers in Canada and Germany and other countries and was broadcasted to the world," said Project Associate Professor Tokiwa proudly.
Looking back on the Olympic podium project, Professor Tanaka would like to realize a circular society involving citizens more than ever before. After the end of the COI project, he plans to move his research base to Kamakura to involve himself in the development of the 'co-creative innovation platform toward digital-driven leap-circular society.' The future oriented activities of Professor Tanaka and Project Associate Professor Tokiwa will never end.