The SpaceX Crew-5, Crew Dragon spacecraft carrying Koichi Wakata, 59, and three other astronauts from the U.S. and Russia launched from the Kennedy Space Center in Florida on the morning of October 6 (Japan Standard Time) and arrived at the International Space Station (ISS) on the morning of October 7. This was Wakata's fifth flight, the most among Japanese astronauts, and the eleventh long-term stay for a Japanese national. After arriving at the ISS for the first time in eight years, Wakata tweeted that evening, "It was a very smooth flight. I feel like I have returned to a familiar business trip destination," he posted. It was the start of six months in space for the veteran astronaut.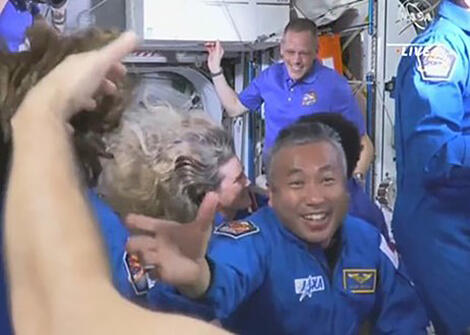 A tweet from the spaceship: "Thanks for your support."
The Crew Dragon was mounted on SpaceX's large Falcon 9 rocket and lifted off at 1:00 a.m. on October 6. It was a successful launch with the rocket separating from the launch vehicle about 12 minutes later. During the fully automated flight, Wakata posted on Twitter, "Thank you for your support! I'm nearing my destination." He made two tweets, saying he would do his best to achieve results using the Japanese Experiment Module Kibo and other facilities.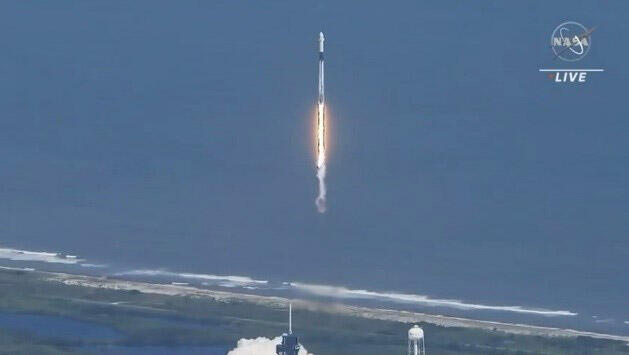 He is the third Japanese crew member to board a Crew Dragon spaceship, following Soichi Noguchi (57) and Akihiko Hoshide (53). At a pre-departure press conference, Wakata said in response to a question from Science Portal, "This is the first time I've seen a spacecraft without a control stick." He expressed his hope that "we can go from a spacecraft with many mechanical instruments (U.S. Space Shuttle and Russian Soyuz) to a new generation of spacecraft operated with tablets." The fuselage for Crew-5 is reused from the Crew-3 mission, which returned to Earth in May, and is named Endurance.
It was the first flight for three of the astronauts, except for Wakata. Among them was Anna Kikina, 38, the first Russian to fly on Crew Dragon. This follows the July agreement between the National Aeronautics and Space Administration (NASA) and Roscosmos, Russia's space agency, to allow astronauts from other countries to board each other's spacecraft. Tensions are high due to Russia's invasion of Ukraine, and both sides are seeking a way to continue activities on the ISS even if their own spacecraft should become inoperable. This agreement has already allowed Americans to board the Soyuz in late September. Nicole Mann, 45, is the first Native American woman to fly and the first female commander of a Crew Dragon.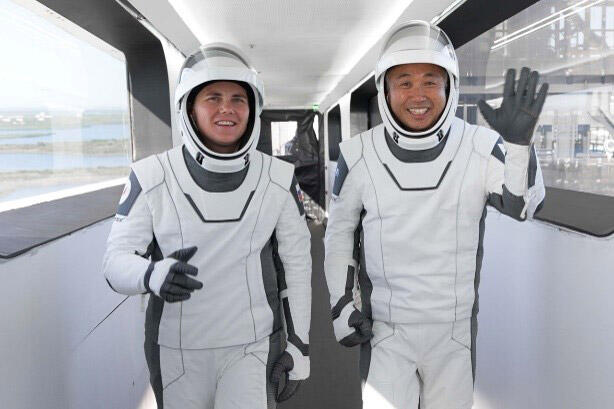 At 6:01 a.m. on October 7, Endurance arrived at the ISS at an altitude of about 400 km. After checking the airtightness of the connection, the hatch was opened at 7:49 a.m. Following the two U.S. astronauts, Wakata entered the ISS to start his long stay. At the welcoming ceremony, he said with a smile, "I'm back in zero-G (weightlessness) and feel like I'm home again. I want to thank those who supported me. I can't wait to work with all the wonderful astronauts."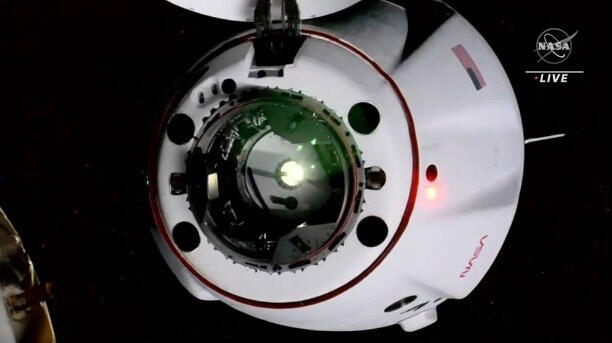 On October 8, he first cleaned the space station, then held an amateur radio communication event with elementary and junior high school students and confirmed emergency response procedures. Wakata immediately began aerobic exercises using a bicycle-pedaling device to prevent his strength from deteriorating in zero gravity.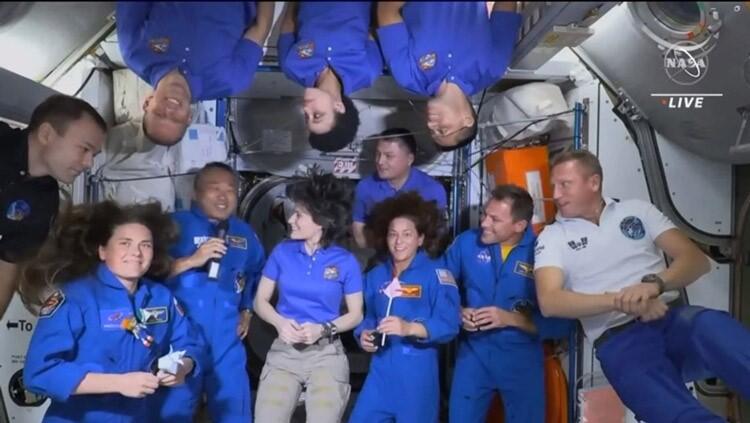 Materials and life sciences... A variety of experiments in zero gravity
Kibo, attached to the front of the ISS in the direction of travel, is the largest experiment module on the ISS. It is large enough to accommodate a bus. The Japan Aerospace Exploration Agency (JAXA) is planning a wide variety of activities here at the same time as Wakata's stay. They include:
(1) A small artificial gravity generator will be used to reproduce the gravity of the moon (1/6 the gravity on Earth) and Mars (1/3) to investigate the properties of liquids such as lubricating oil. It will be used for the research and development of lunar exploration vehicles, as well as for the design of other equipment to be used in manned exploration of the moon and Mars. This will be the first experiment.
(2) As animals age, muscle atrophy, metabolic dysfunctions, neuromuscular degenerative diseases, and weakened immunity occur, but previous experiments on Kibo have revealed that a similar phenomenon occurs when nematodes are grown in zero-gravity space. Further experiments will focus on such things as the decrease in the neurotransmitter dopamine, leading to the search for mechanisms and countermeasures.
(3) Air convection is less likely to occur in zero gravity, and in the event of a fire, the way various materials burn differs from that on the ground. Wakata will examine the relationship between oxygen concentration and other factors, develop evaluation methods, and use the results to help ensure the safety of future manned exploration.
(4) Use of an "electrostatic levitation furnace," in which samples with high melting points are charged, levitated and heated to examine their physical properties. He will conduct several experiments, including investigating the nature of the molten state of a nuclear reactor's control rod material.
(5) In zero gravity, unlike on Earth, convection due to differences in the density of protein molecules in solution and the incorporation of impurities into crystals are less likely to occur, meaning high-quality protein crystals can be produced. This will be used to conduct experiments related to the development of antimicrobial agents such as multi-drug resistant bacteria and biological imaging techniques.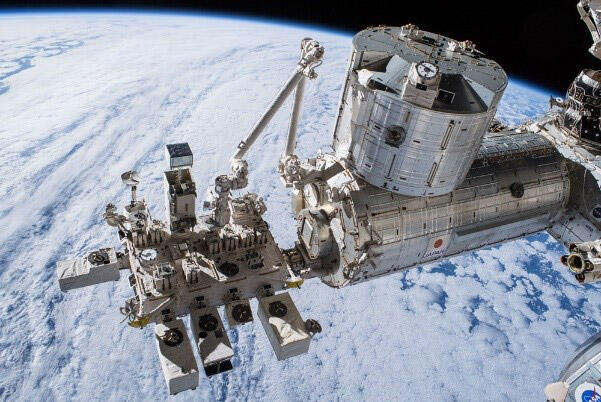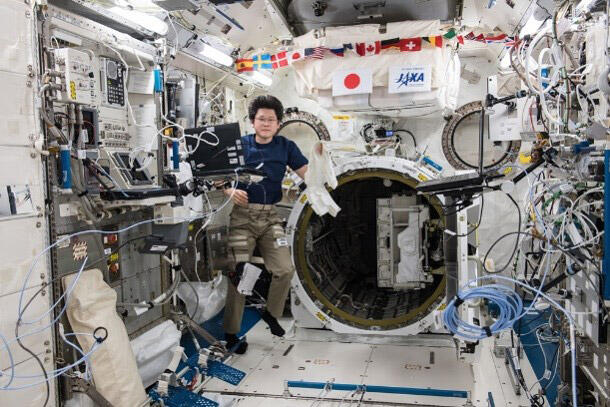 Other planned activities include experiments in regenerative drinking water sanitation, exposing equipment and materials to space, remote robotics competitions and public experiments for young people from Japan and abroad, and the release of a nanosatellite. It is expected that Wakata will be responsible for many of these.
Sayaka Umemura, expedition manager of JAXA's Manned Space Technology Center, said, "The astronauts assigned to each mission are determined through international coordination, but Wakata is a specialist in Kibo utilization. We hope that many missions will be carried out."
Surprisingly, Wakata has no experience in extra-vehicular activities, but on this mission...
Koichi Wakata was born in Saitama Prefecture in 1963. His interest in space began at the age of five, when he was moved by watching the Apollo 11 moon landing on TV. He was a catcher on his baseball team at Saitama Prefectural Urawa High School. He then studied aeronautical engineering at Kyushu University, where he received his Master of Science degree. After working in maintenance and airframe structural engineering at Japan Airlines, he overcame all odds to be selected as an astronaut candidate by the National Space Development Agency of Japan (NASDA, now JAXA) in 1992. In 2004, he completed his doctoral studies at the Graduate School of Engineering, Kyushu University.
In the past four flights, he achieved a number of firsts: (1) in 1996, he became the first Japanese to board the space shuttle as an onboard operations engineer; (2) in 2000, he became the first Japanese to participate in construction of the ISS; (3) in 2009, he became the first Japanese to stay on the ISS; and (4) during the latter two months of his stay from 2013 to 2014, he became the first Japanese commander of the ISS.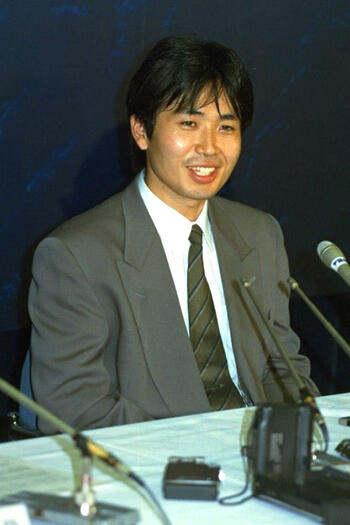 He is highly regarded for his combination of excellent skills, teamwork, and positive and cheerful personality. He has also been active in management positions, including serving as the first Japanese astronaut to head the ISS operations division of NASA's Astronaut Office from 2010 to 2011 and as a JAXA board member from 2006 to 2008. Despite his extensive experience, he has surprisingly never been on a spacewalk. At a press conference on his temporary return to Japan in July, he expressed his eagerness, saying, "I'm looking forward to the experience."
It has been a long time since Japanese astronauts began making annual spaceflights, and the activity itself is no longer the big news story it used to be. While it may seem a little sad, it is a testament to the progress of Japan's manned space program. In the efforts toward international cooperation to go to the moon and Mars, these types of activities will increasingly come into focus and be questioned.
The participating countries have already agreed to operate the ISS until 2024, but the Biden-Harris administration in the United States decided late last year to extend its operation until 2030, and the countries are now reviewing their participation. How should humanity think about and proceed with the use of low Earth orbit, such as the ISS, and activities that aim farther out in space, respectively? What should Japan do? We should think about it through the activities of the astronauts and not just leave it to the experts.
By the way, although Wakata is the oldest active JAXA astronaut, he is only in his 50s. However, at a press conference in July, reporters peppered him with questions about his age as he will turn 60 in a year, his physical changes and limitations, and how he looks older. This is not an attempt to flatter him in his defence, but he's as lively and active as any young man.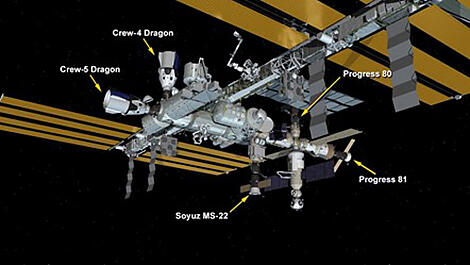 (KUSAKA Takeo / Science Portal Editorial Office)
Original article was provided by the Science Portal and has been translated by Science Japan.