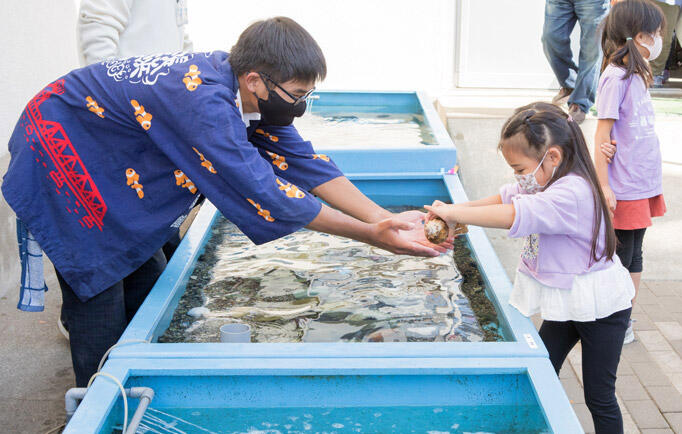 This Youth in Tune with Nature article introduces the Aquarium Club in Ehime Prefecture's Nagahama High School. Students of this small regional high school engage in club activities that are unique in Japan: caring for diverse aquatic creatures, including fish, breeding and researching them, and even opening their aquarium up to the public once a month. These are incredibly original educational activities that simultaneously foster problem-solving skills and social skills and help to revitalize the region.
Handmade and produced by high school students

High school students wearing happi (a traditional Japanese coat) greet visitors in front of a compact school building in a small town. Everything here, from the signboard to the decorations in the venue, is handmade by the students. It's almost like a cultural festival. The Aquarium Club in Ehime Prefecture's Nagahama High School hosts the Nagahama High School Aquarium (Nagako Aquarium) event on the third Saturday of every month.
In front of the entrance sits a tank of jellyfish, and the exhibition room (a repurposed classroom) is packed with numerous tanks in rows, displaying a great variety of creatures - not just fish but also turtles and shrimp. Yellowtails, flatfish and sharks swim in large tanks outside. The Aquarium Club rears creatures from the Hijikawa River that runs through the town and from the Iyo-nada Sea and the Uwakai Sea off the coast of Ehime, as well as fish caught in Okinawa, where they visit on their school trips.

Club members are on standby next to the tanks, responsible for providing explanations about the creatures in them. They have also worked to come up with original display methods, so that everyone can enjoy themselves as they learn about these creatures.

Aiming to survive by drawing out unique characteristics
Located around 15 km north-west of the center of Ozu City, Ehime Prefecture, the Nagahama area, which faces the Iyo-nada Sea, was once a port town that prospered through the fishing industry and water transport. But as society changed, the number of students attending Nagahama High School continued to decrease. Based on his experience in a previous school, Mr. Hiroshi Shigematsu, a teacher who started working at the school over 20 years ago, says he felt it would be difficult for this small regional school to continue if it didn't draw out its unique characteristics.
Therefore, Shigematsu focused on the existence of Nagahama Aquarium, the first aquarium in Shikoku, that opened in 1935. When he took up his position in the school, the aquarium had closed due to its age, but it had been loved by the local people for around half a century, and many homes around the school kept fish. He believed that it would be possible for the local high school to use the aquarium, the town's former symbol, to create something together with the local community. Inspired by this idea, Shigematsu began taking action with the members of the Natural Sciences Club, the predecessor of the Aquarium Club.
At first, the club only had two tanks in the biology classroom and a few killifish, but they gradually started keeping fish caught in the sea nearby. They held their first display for visitors at the cultural festival in 1998. After that, as they continued to open to the public once a month, and the Nagahama High School Aquarium became established as a local event.
Now, the club has around 2,000 living creatures (of approximately 150 different species), and visitor numbers can reach 800 people at busy times when the aquarium is open to the general public. Its renown has grown nationwide, and it has been covered repeatedly by the media. Moreover, even the Nagahama High School students who aren't associated with the aquarium get involved, with the Business Club collaborating with the local area to make walking maps that include different eateries and working with support facilities for people with disabilities to sell cookies, rediscovering local attractions one after another and developing activities with the people of the town.
Three groups showing creativity and ingenuity to carry out activities
Club activities are left up to the students' own volition, but there are a few that are predetermined. One is that all club members are responsible for a tank and care for the fish and marine creatures. Of course, if they can't look after them due to an absence or similar circumstances, other members will cover for them.
Another is that they all belong either to the Event Group, which is responsible for running the public openings, the Breeding Group, which is involved in breeding the club's creatures, or the Research Group, which engages in different kinds of research on the creatures. One hour of the club's daily two-hour activities is taken up by each student maintaining the tank for which they are responsible. During the other hour, the students carry out activities in their groups. "I don't really say much - each group exercises their creativity and ingenuity," said Shigematsu, happily.
In the Research Group, it is left up to each person as to what they work on. There are members that continue research topics from their seniors, and others that begin new research themselves. Natsumi Ishimaru, a first year researching octopuses, is one of the latter.
"I've liked octopuses since I was in elementary school, and in the Aquarium Club I'm in charge of the octopus tank. When we kept a male-female pair, the male died in early August. I thought it was because I was inexperienced in the way I looked after them, but the female laid eggs in tank in mid-August, and I learned that male octopuses weaken and die after copulation," explained Ishimaru. With the help of her friends in the club, she confirmed that the octopus had laid over 3,000 eggs. To avoid their destruction, the club released many of these in the sea. They tried raising the remaining octopuses, but none survived. As a result, Ishimaru is doing research so she can improve the survival rate of their octopuses.

Developing jellyfish protection cream with a company
One example of research that has been passed down from student to student for a long time is the development of a cream to protect against jellyfish stings. The start of this was a simple question about the clownfish, which are kept by the club.
The clownfish is well-known for hiding in sea anemones to dodge attacks from external enemies. If anything touches the tentacles of a sea anemone, it will be injected with tiny stingers from its nematocysts, so the predators of the clownfish can't come near. The club members wondered, "Why aren't the clownfish stung by the sea anemone?" and set out to solve this mystery.
Consequently, they discovered that the mucus coat that covers the clownfish contains magnesium ions and confirmed that sea anemones do not sting if they sense these ions. Their results were highly praised in several science contests - they were even awarded the Prime Minister's Award at the 58th Japan Students Science Awards (2014).
Inquiries came pouring in from multiple companies that had heard this: "If it prevents stings from sea anemones, could it be used to prevent stings from jellyfish, which are also from the same Cnidaria phylum?" Shigematsu recalls, "Among these, a company called ABS in Shizuoka Prefecture empathized with the activities of the Aquarium Club and asked if we would accept them as a research and development partner. Through this we ended up developing cream to protect against jellyfish stings together."
The club was sent test products with magnesium ions and test products without magnesium ions and tried out experiments by coating bamboo skewers with the test products and confirming whether they were approached by jellyfish tentacles and stung. They clarified that calcium ions are also connected with nematocyst injections (stinging) and succeeded in creating a jellyfish protection cream product - Jellys Guard - with both magnesium ions and calcium ions.
Research related to this is still ongoing. Second year student Sora Shigematsu explained, "Our seniors' research showed that while calcium ions were associated with nematocyst injection, as the concentration was increased, stinging was suppressed. So, we investigated whether jellyfish bodies have receptors that sense calcium ions, and whether these are related to nematocyst injections based on concentration."
It would have been difficult for a high school to carry out analysis to identify the receptors themselves and to specify the protein sequences of these receptors by decoding their genomes. Therefore, Shigematsu investigated whether nematocyst injection occurred when the calcium concentration was changed. She also discovered that the frequency of injection varied with the concentration, and used three species - the northern sea nettle, the moon jellyfish and the lion's mane jellyfish - to clarify that there are different reactions to calcium ion concentrations in different species. If these outcomes could be incorporated, it might be possible to create a cream that combines an optimum concentration of active ingredients for each jellyfish species.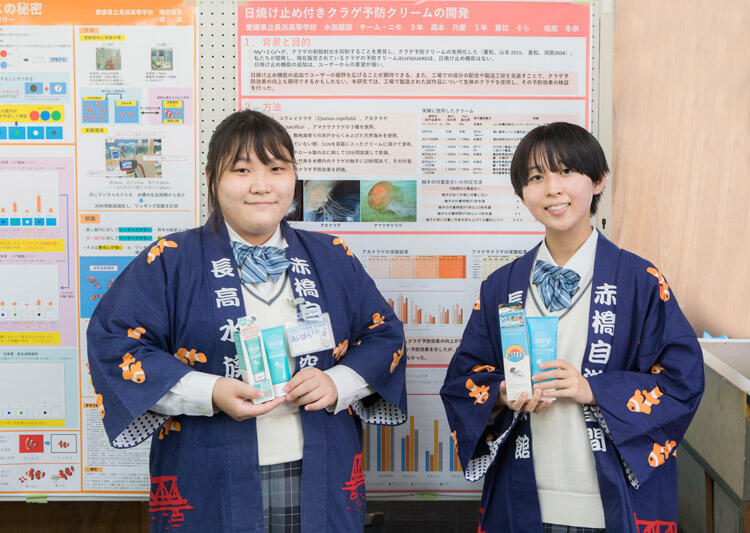 Making use of lessons learned through club activities
This school year, 57 first year students enrolled in Nagahama High School, more than double the previous year. Around half of these joined the Aquarium Club, and there are 11 members from outside the prefecture. The students have always learned the importance of connecting with local people, sharing information and communicating, so during the period when they couldn't open up to the general public, when COVID-19 spread like wildfire, they shared information about their activities through livestreams and social media. The students' enthusiasm spread widely and led to this outcome.
"The activities of the Aquarium Club are educational activities that foster problem-solving skills, social skills, and communication skills," noted Shigematsu. The opportunity to communicate with a variety of local people - men and women of all ages - by opening to the public is an irreplaceable experience for high school students.
After opening to the public, the students always hold review meetings, in which they consider what they could and couldn't do, as individuals, as groups, and as a club, working to overcome the next issue that needs improvement. This habit and know-how will definitely be of use to them once they head out into society in the future.
The Nagahama High School Aquarium has a history of over 20 years. It's even become the setting for a manga: A Tropical Fish Yearns for Snow (Makoto Hagino). It has held tie-in campaigns with all sorts of organizations, bringing the school and community together and making them come alive. These high school student-led, regional research activities that seek out local characteristics may be effective both as part of an education that allows young people to grow, and as a forum for co-creation that rediscovers hidden charms.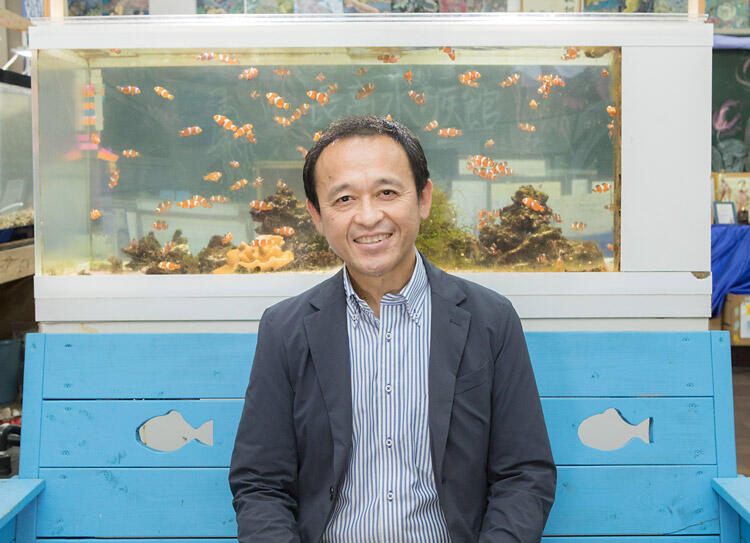 Original article was provided by the Science Portal and has been translated by Science Japan.