The United Nations Intergovernmental Panel on Climate Change (IPCC) recently released its latest report, stating that the limit of a "1.5‐degree Celsius temperature increase from preindustrial times", a target to prevent severe future damages, is likely to be exceeded and that global carbon dioxide (CO2) emissions must be halved by 2030 to avoid this situation. The report emphasizes that measures to be taken in the next decade will impact humanity and the planet for thousands of years and urges countries worldwide to accelerate their measures. UN Secretary‐General António Guterres showed his sense of urgency by saying that "the climate time bomb is ticking."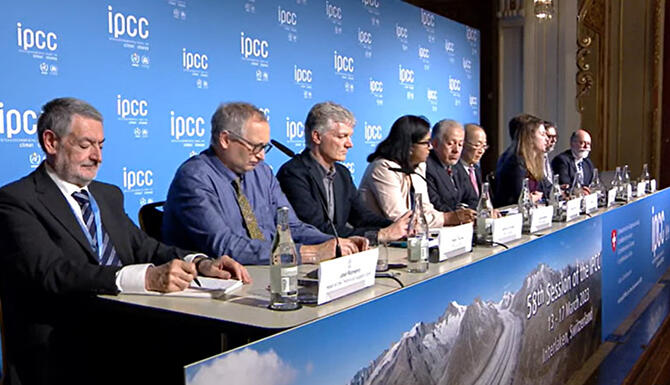 The Paris Agreement, an international framework for averting global climate disaster, aims to limit the increase in the global average temperature at the end of this century to below 2 degrees Celsius above preindustrial levels, preferably to 1.5 degrees Celsius. In its previous reports, the IPCC had noted the necessity of limiting warming up to 1.5 degrees Celsius to reduce its impact on humanity. Currently, this '1.5 degrees Celsius' is the global target.
The report begins by specifying that greenhouse gas emissions from human activities are causing global warming and that the temperature has already increased by 1.1 degrees Celsius from preindustrial levels. It then states that the greenhouse gas control measures submitted by countries to the UN are insufficient, so the global warming is likely to exceed 1.5 degrees Celsius early this century. Furthermore, it notes that it will be difficult to achieve the target of less than a 2‐degree Celsius increase. Confirming that the current measures taken by individual countries will not enable them to meet the goals of the Paris Agreement, the IPCC predicts that if greenhouse gas emissions continue to rise without any measures to fortify their climatic effects, the temperature will rise by up to 3.4 degrees Celsius by the end of this century.
Actions to limit the increase in temperature to 1.5 degrees Celsius would require a 48% reduction in CO2 emissions by 2030, 65% by 2035, 80% by 2040 and 99% (near‐zero carbon) by 2050 relative to that in 2019. The report also stated that total greenhouse gas emissions, including methane, must be reduced by 43% by 2030, 60% by 2035, 69% by 2040, and 84% by 2050, respectively. Furthermore, by presenting detailed analytical data, the report emphasizes that to prevent serious damage due to climate change, a drastic reduction in greenhouse gas emissions will be essential in the future.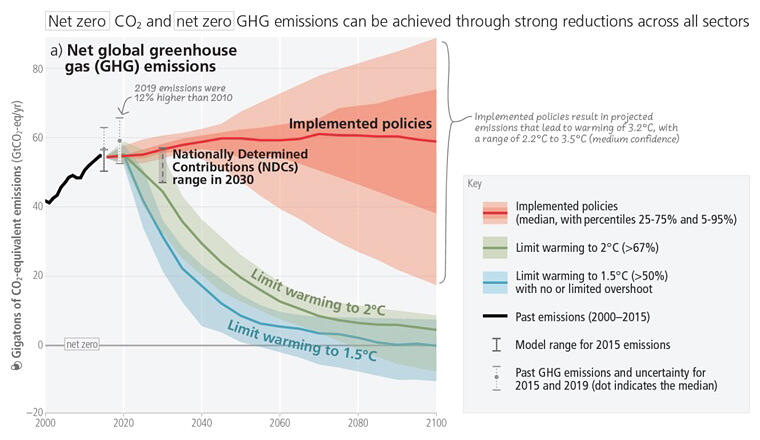 The report details the grim outlook for humanity in the current situation and states that the only way to prevent the enormous damage caused by climate change is to actively and boldly tackle tough challenges by taking measures that would not be easy to be implemented.
It also lists specific measures to reduce emissions that would help avoid extensive damage. The report particularly indicates measures that can be implemented at low costs, suggesting inexpensive measures that can be applied for less than $100 USD. Furthermore, the report states that the widespread use of renewable energy sources, such as solar and wind power generations could reduce emissions by approximately 4 billion tons per year.
The official name of this latest report is 'AR6 Synthesis Report: Climate Change 2023'; it is based on the reports of the three working groups published by the IPCC between August 2021 and April 2022, with the latest information organized by more than 90 scientists globally. This is the first full update in nine years since the Fifth Synthesis Report: Climate Change 2014; its release comes amid frequent extreme weather and climate events, such as heavy precipitation and floods, heat waves and droughts caused by climate change in various countries worldwide.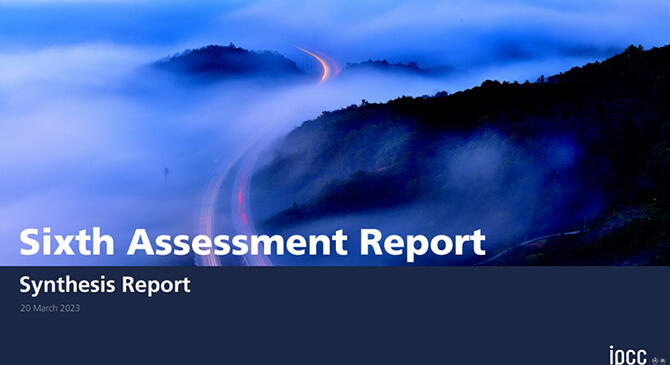 Secretary‐General António Guterres delivered a message during the release of the report. He stated that "humanity is on thin ice and that ice is melting fast. The rate of temperature rise in the last half century is the highest in 2,000 years. Concentrations of carbon dioxide are at their highest in at least 2 million years. The climate time bomb is ticking. But today's IPCC report is a how‐to guide to defuse the climate time‐bomb. It is a survival guide for humanity."
Each country participating in the Unites Nations Framework Convention on Climate Change (UNFCCC) must review its current measures, set reduction targets for 2035 and submit them to the UN by 2025. This report, full of urgent calls to action, is expected to impact the formulation of countermeasures in each country.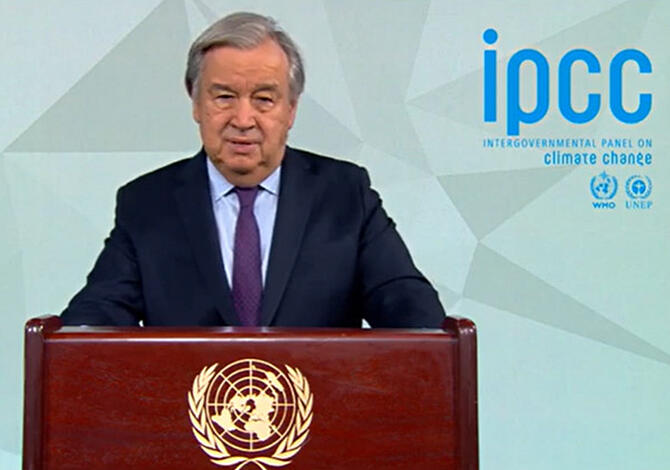 Original article was provided by the Science Portal and has been translated by Science Japan.