The 'ALCA-Specially Promoted Research for Innovative Next Generation Batteries (ALCA-SPRING)' project, aimed at the realization of next generation batteries that surpass lithium-ion batteries (LIBs), was launched in 2013. Under the strong leadership of Kohei Uosaki, Fellow of the National Institute for Materials Science (NIMS), the project has achieved remarkable and unrivaled technological advancements toward realizing revolutionary batteries, using an integrated form of team research for everything from materials to devices and evaluation. Over the past decade, it has seen participation from over 120 principal investigators from 60 institutions in total. This collaborative effort has resulted in significant progress and broadened the battery field. The project has also played a key role in fostering and developing a diverse pool of talented individuals.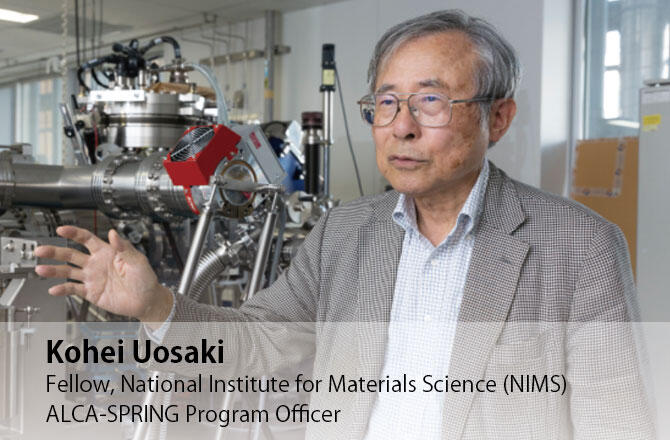 An all-Japan research system that also aims to strengthen IP management for commercialization
Batteries are crucial in powering many electronic devices, including smartphones and tablets. In the lead-up to achieving carbon neutrality by 2050, the domestic and global markets for batteries are expanding, driven by the increasing demand for balancing power supply/demand and for electric vehicles (Figure 1). LIBs, which are compact, lightweight, powerful, and with high charge/discharge cycles and are, therefore, currently most widely used for the above, are expected to see continued growth in demand (Figure 2).
Figure 1: Forecast for global battery markets (based on capacity)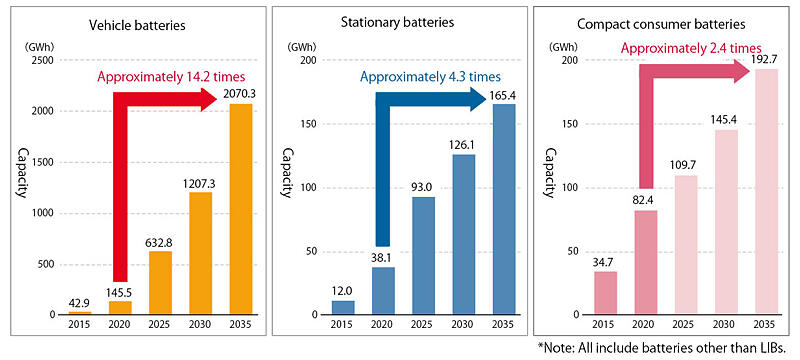 Figure 2: Schematic of LIB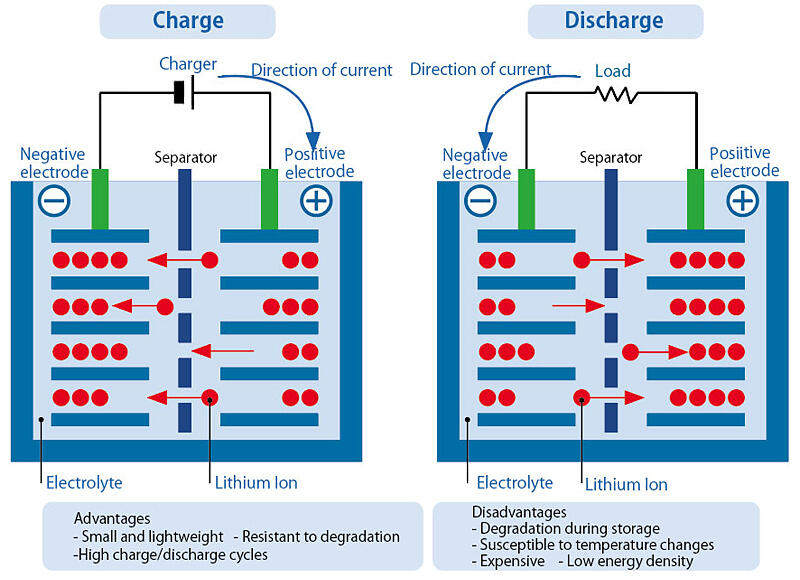 However, LIBs also have challenges. LIBs have design limitations; their theoretical maximum capacity is believed to be only twice the current capacity. Therefore, new battery technologies are required to increase capacity and lower costs (Figure 3). The widespread adoption of electric vehicles also presents various technical challenges, such as higher energy density, shorter charge time, prevention of degradation over time, and reduction of ignition risk. The depletion of resources is also pointed out. The development of next-generation batteries to overcome these challenges is an urgent need around the world.
Figure 3: Energy densities of various types of batteries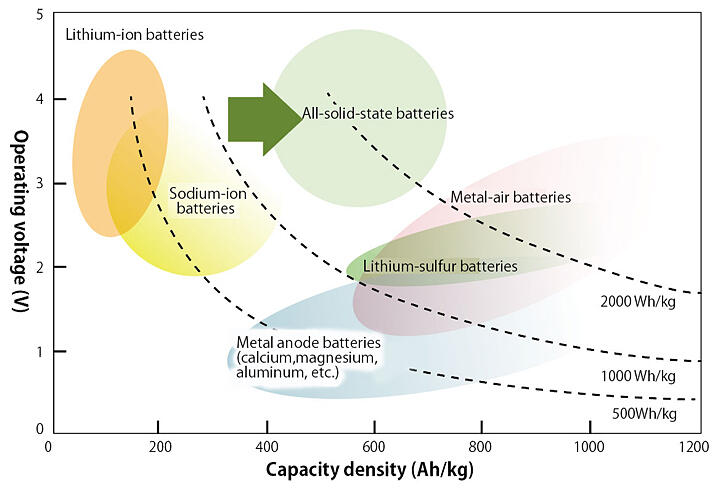 In response to this growing need, the ALCA-SPRING project was launched in July 2013 within the Advanced Low CArbon Technology Research and Development Program (ALCA), which aimed at promoting green innovations. After three structural reorganizations based on stage-gate evaluations, the structure of the final stage of the project consisted of 'All-Solid-State Battery (sulfide and oxide types)', 'Lithium-Sulfur Battery,' and 'Next-next Generation Battery (metalair, and magnesium (Mg) metal battery),' Teams, and the 'Special unit for Lithium metal anode research', which carried out comprehensive evaluation and analysis of Li-metal anodes in a cross team manner, accelerating practical use of batteries with these anodes (Figure 4).
Figure 4: ALCA-SPRING's management structure and participating institutions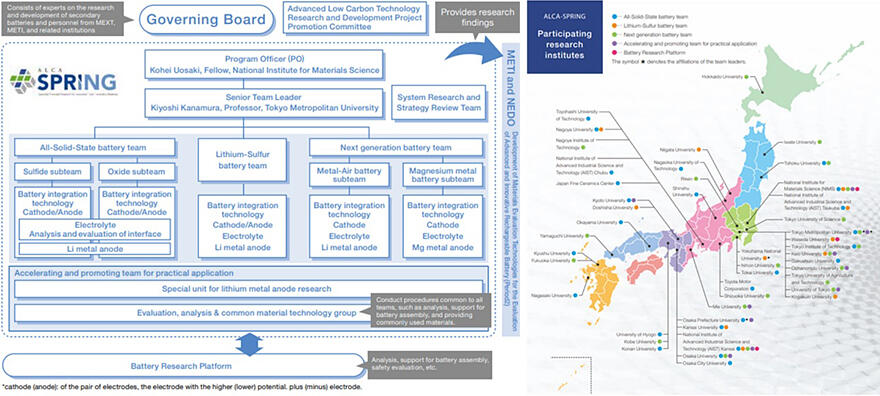 It has three main objectives. The first is to construct game-changing next-next generation battery systems, utilizing new materials, which are explored and developed based on thorough scientific understanding. The second is to establish a project structure that not only optimizes individual materials but also performs all processes from battery design, development of positive and negative electrodes and electrolytes, comprehensive battery technology, and evaluation/analysis with a clear vision for realizing innovative batteries. The third is to establish a clear intellectual property (IP) policy from the start of the project based on the systems and strategic research and to achieve world-class technological development. Uosaki stressed the project's direction as, "By promoting these objectives, we would like to contribute to realizing a low-carbon society both in Japan and worldwide."
The project has established an IP Management Committee to conduct patent application reviews, external publication reviews, various searches and analyses, awareness-raising and education, search support, application support, and collective management of sublicenses to ensure effective IP management. For patent applications deemed particularly important, the project is pursuing strong protection of rights with the aim of commercialization, including in overseas markets.
Enhancing research efficiency and sophistication through cross-functional collaboration and state-of-the-art shared facilities
One characteristic of ALCA-SPRING is its top-down research approach and clear target of battery development. Traditional battery research was divided into separate fields, such as electrodes and electrolytes, and aimed to optimize each of them. However, it often failed to produce high-performance batteries due to incompatibilities during assembly. Uosaki recalls, "To achieve our goals on a limited budget, we needed to fundamentally change how things had been traditionally done. At ALCA-SPRING, we worked closely together as one team, internally and with our external partners, with the common goal of 'making batteries.'"
The 'ALCA-SPRING Subcommittee' which consists of experts from industry, government, and academia has offered guidance on the direction of research and development. In addition to direct discussions with researchers during site visits and interviews, the Subcommittee also took into account ever-changing social conditions and global trends to provide a better direction for research from a broad perspective. Uosaki added, "In the Stage-Gate evaluation process, progress towards our ultimate goal of developing next-generation batteries was assessed, considering both scientific and non-scientific factors. Evaluations were rigorous and, although it was harsh, sometimes we had to cancel some of our themes. Through reviewing our research and development system, the project has achieved unprecedented breakthroughs by actively incorporating researchers from outside the field of batteries."
Furthermore, cross-functional collaboration within and outside the project has also been promoted. For example, an increase in efficiency in several areas was achieved through integrating evaluation and analysis and adopting common material technologies as the basis for development. The Special unit for Lithium metal anode research is responsible for research on the optimal Li metal electrodes for batteries, including clarification of the controlling factors of Li anode efficiency and degradation, optimization of the electrolyte, fabrication of Li metal anodes, and verification of whole cells. This cross-functional collaboration has enabled collaborative information sharing among the respective teams. This approach is unique and considered unprecedented and groundbreaking.
Moreover, the 'NIMS Battery Research Platform,' established with 2012's supplementary budget, has significantly contributed to efficient research promotion. This shared facility, created at NIMS, the National Institute of Advanced Industrial Science and Technology (AIST), and Waseda University, provides various services from cell prototyping to analyzing and evaluation of materials (Figure 5). Priority was given to supporting ALCA-SPRING's research and development, which has enabled the further advancement of analyzing technologies for battery materials.
Figure 5: An example of the facilities at the NIMS Battery Research Platform

Fostering next-generation talent through interagency collaboration
Currently, ALCA-SPRING has established a cooperative framework that encompasses external organizations such as companies and government agencies, and this structure has enabled the acceleration of research and development for practical applications of batteries. In April 2018, the All-Solid-State battery team transferred some of its achievements to NEDO's Development of Fundamental Technologies for All Solid-State Battery applied to Electric Vehicles 'SOLiD-EV' to promote the social implementation of sulfide all-solid-state batteries, which have seen remarkable research progress.
The Lithium-Sulfur battery team and the Sulfide subteam in the All-Solid-State Battery team, in partnership with the Consortium for Lithium-Ion Battery Technology and Evaluation Center's (LIBTEC's) External Collaboration Department, are focused on considering how to scale-up electrodes and batteries, estimating the energy density required for the practical-use of batteries, and evaluating process applicability. In April 2018, the Metal-Air battery subteam also transferred its applied research, aimed at practical applications, to a private company for the purpose of joint development. Uosaki is looking forward to future developments of the project saying, "This was realized as a result of the company's need for the development of specific applications of lightweight batteries and the longer-term, breakthrough-focused direction of the project. It is a prime example of how ALCA-SPRING's outcomes can lead to collaborative research with companies on practical application."
He also places a strong emphasis on the fostering of young talent as an outcome of ALCA-SPRING. While doctoral students have been involved in large research projects to date, it has been challenging for master's students to participate. However, ALCA-SPRING has been able to engage not only master's students but also undergraduate students as team members, which was a surprising result. Uosaki noted, "The project has been successful in attracting students who are drawn to how interesting the projects are, leading them to pursue higher degrees." He also emphasized the project's effectiveness in providing valuable career opportunities for students, "Many students have used their experiences to secure employment with companies such as those manufacturing battery materials and automobiles, as well as at public institutions."
As of Spring 2022, over 700 students from undergraduate to doctoral levels have been involved in ALCA-SPRING research. More than 600 secured employment with companies, public institutions, and universities. Of these, over 460 students found jobs in battery-related companies. "The development of next-generation batteries will continue for the next 10-20 years. We hope that the many students who gained experience at ALCA-SPRING proceed on to a variety of career stages and contribute to the realization of a recycling-oriented society in the future by deepening technologies and their skills, thereby opening up the unlimited possibilities of batteries and battery-related technologies." Uosaki envisions not only the realization of next-generation batteries that dominate the world but also a bright future.
(Article: Kazuyuki Katayanagi, Photography: Hideki Ishihara)